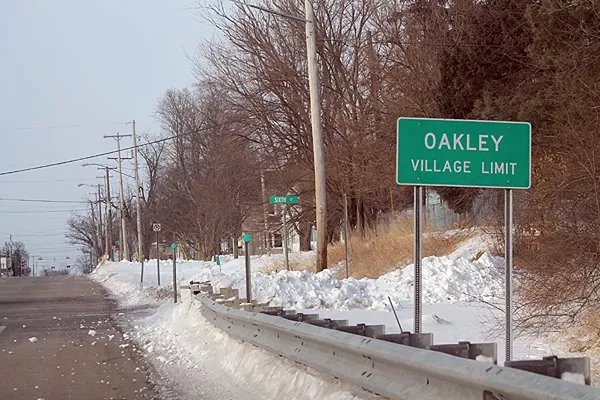 Robert J. Reznick, the former police chief of the Village of Oakley, pleaded guilty on Tuesday to charges of wire fraud and filing a false income-tax return for 2012.
Reznick was the center of a bizarre scheme to create a self-funded police department by soliciting donations from wealthy or otherwise prominent metro Detroiters in exchange for allowing them to be unpaid "reserve officers" — what he called a "dream team," according to a 2015
Metro Times
cover story
. Reznick then used his position as police chief to purchase discounted weapons, which he sold to his "reserve officers" tax-free for his own personal gain, according to prosecutors.
Though Reznick has fought to keep the list of his reserve officers a secret,
a list of applicants
reveals a who's who of metro Detroit movers and shakers, including the likes of Kid Rock, Quicken Loans VP Adam Speck, Rock Ventures exec Matthew Cullen, former Detroit Lion Jason Fox, Bacco Ristorante owner Luciano Delsignore, and the late Marvin Yagoda, the former proprietor of Marvin's Marvelous Mechanical Museum.
None of the 145 applicants live anywhere near the small Saginaw County town.
Per a press release from the United States Attorney's Office, Eastern District of Michigan:
According to court records, Reznick fraudulently used his position as a police chief to obtain reduced prices on firearms, ammunition, and other equipment from suppliers located both in and outside of Michigan. He then sold the merchandise to his "reserve officers" for his personal profit. Though the population of the Village of Oakley, located in Saginaw County, was under 300 people, Reznick recruited and maintained a roster of approximately 120 reserve officers for the Oakley Police Department, most of whom were affluent professionals or otherwise prominent individuals who lived outside of, and distant from, the Village of Oakley. Reznick also used his position as police chief to facilitate the sale of assault shotguns, with the capacity to hold 16 rounds, from an out-of-state vendor for some of his customers and thereby enabled the purchasers of those shotguns to evade the federal and state taxes on the transactions.

In addition to the wire fraud charge, Reznick pleaded guilty to willfully filing a false 2012 federal income tax return, and acknowledged under-reporting his income on tax returns for additional years. The criminal tax loss that resulted from Reznick failing to truthfully report all of his personal income totals approximately $87,702.
"Instead of protecting and serving his community, Robert Reznick made the
decision to break the law for personal gain, and in doing so violated the public's trust,"ATF Special Agent in Charge James Deir said in the release. "ATF will never waiver in our commitment to protecting the community and we will continue to work with our law enforcement partners to hold all citizens accountable."
The plea agreement is below.
Plea Reznick by on Scribd
Stay on top of Detroit news and views. Sign up for our weekly issue newsletter delivered each Wednesday.