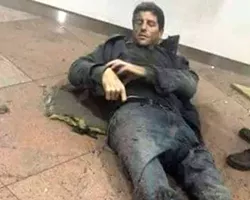 It is so easy these days to become numb to the news of another terrorist attack in a far away land, to forget about the connections that weave across oceans and between cities on different continents.
Until word comes that someone with local ties has become a victim of those attacks.
Former Oakland University basketball player Sebastien Bellin was standing at the ticket counter when a deadly explosion rocked the Brussels airport.
According to tweets from BC Telenet Oostende, a Belgian team Bellin played for after college, he was thrown 20 meters and sustained serious injuries. A photo shared by the team shows Bellin lying bleeding but conscious on the floor following the attack.
After college, Bellin returned to his native Belgium, where he had a successful career in European professional basketball, but never lost touch with his college coach or the Oakland basketball program.
OU basketball coach Greg Kampe asked his Twitter followers to pray for Bellin, who is headed into a second surgery to repair his injuries, putting a personal face on the #prayforbelgium hashtag that spread around the world in the wake of the attacks.