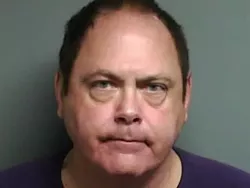 Philip William Frame, 61, a former spokesman for Macomb County, the Detroit International Bridge Company and the Cobo Center, was arraigned Monday afternoon on charges related to child pornography.
Frame, of Shelby Township, was arrested Saturday by Macomb County Sheriff's Computer Enforcement team, but released on a $10,000 bond. Monday he was arraigned and charged with possession of child sexually abusive material, use of a computer in order to commit a crime and, unrelated, possession of marijuana.
Frame, who was laid from his job with Macomb County in 2009 before working for Matty Moron and promoting the Ambassador Bridge, was the center of an investigation around child pornography after the National Center for Missing & Exploited Children sent the Macomb County Sheriff a tip that an IP address in Shelby Township had uploaded child porn. According to the
Detroit Free Press
, U.S. Department of Homeland Security searched Frame's house in September and confiscated evidence related to child pornography at the time. The county sheriff's department followed up with their own search Friday, which resulted in the retrieval of more pornography — and marijuana.
"The status of that investigation is not known, however, it appears that Mr. Frame has continued his illegal behavior," a press release from the Sheriff's Office stated.
While it's unclear where Frame got the child pornography he uploaded, this is not the first time Detroit or its neighboring suburbs have been caught up in scandals dealing with child exploitation. In October it was
reported
that Detroit had the second highest number of children rescued in Operation Cross County IX, a nationwide sex traffic sting that resulted in 149 sexually exploited children being rescued nationally, and 19 being recovered in the Metro Detroit area.