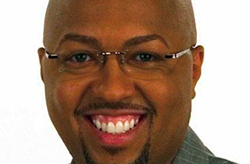 Former Detroit City Council President and FOX 2 television personality Charles Pugh was arrested early Thursday morning in New York on molestation charges.
Charges have been filed against Pugh following allegations that he had sexually inappropriate behavior with a 14-year-old boy between September 2004 and May 2004, according to a news release from the Wayne County prosecutor's office.
"In June 2003, the 14-year-old Detroit teen met Pugh for the first time when he went to the Fox 2 news station with a theater group to perform," the press release states, later adding that the complainant, who is now 27, exchanged phone numbers with Pugh after approaching him about an internship. While the then 14-year-old didn't end up interning for the station, the prosecutor's press release says that he visited Pugh's Detroit apartment "several times" and the two were connected via phone and text messages.
The specific facts and evidence of the case have yet to be released; however, Pugh was charged with three counts of criminal sexual conduct — charges that carry a maximum penalty of life in prison — and three counts of criminal sexual conduct in the third degree — charges that carry a maximum penalty of 15 years behind bars.
This is not the first time Pugh has been accused of sexual misconduct with a Detroit teenager. It feels like just yesterday that we were
writing about the trial proceedings
stemming from 2013 allegations that Pugh made sexual advances towards a 17-year-old Detroit Public Schools student that he was paired with through a mentorship program.
That case, which went to a jury trial in October, resulted in a
$250,000 judgement
— of which Pugh originally suggested he would appeal and then
backtracked against
in April.
For a good background on Pugh and his time in Detroit, revisit my colleague Michael Jackman's piece,
Charles Pugh gets his comeuppance.
As Jackman so eloquently explains it, when Pugh originally came into office 2009, we were rooting for him. Why wouldn't we after his 2007 interview with one of our interns and explained some of his goals as a public figure who also happened to be gay and black?
"Gay black men are always portrayed as a joke in the media and — damn it — I am not a fucking joke," he said. "I am a real person. I fall in love, I follow sports, I mess up sometimes, I eat, laugh, and cry just like everybody else. I want to show that me being gay does not overpower any other part of my life."
Unfortunately, as Jackman points out, Pugh's actions stand in the face of these comments.
"Though we had high hopes for Pugh striking a blow against homophobia, he's done more to set back gay rights than many demagogues could," Jackman wrote.
"Whenever those arguing for equal rights champion fair hiring practices that don't discriminate against the LGBT community, especially in positions that involve children, such as counselors, educators, or school administrators, they will have Pugh's misdeeds thrown back in their faces. Detroit never was a gay-rights bastion, but Pugh has given homophobes a potent weapon: an example of somebody who let his sexuality get in the way of professional conduct in dealing with children."
That's pretty darn depressing.