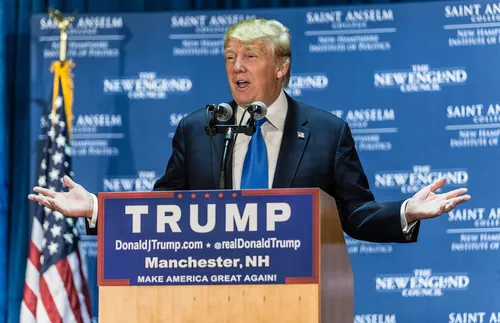 Something has been bothering me over the last week or two. It started on Sept. 16, when the
Free Press
did
a story about how Ford Motor Co. was shifting all its small vehicle production to Mexico
. I read through the story, finding all the things I expected to: The CEO says it will help Ford remain competitive, the impact on U.S. employment will be minimal "in the near-term," and Ford already builds a lot of its cars in Mexico. The article also had union officials from the UAW against the move, and summarized the anxieties of Canadian auto workers' union Unifor. Other than that, the article ended with a lot of the expected happy talk from CEO Mark Fields, near a photo of him with a beaming, toothy smile.
Oh, there was on voice in that article that went full-on thermonuclear against Ford. It was presidential candidate Donald Trump, who railed: "We shouldn't allow it to happen. They'll make their cars, they'll employ thousands of people, not from this country, and they'll sell their car across the border. … When we send our jobs out of Michigan, we're also sending our tax base."
It got me thinking about the past, about how news media would have covered something like this in the old days. There would have been some anger. It wouldn't have simply been written up in a smartly composed business news summary with a smiling photo of a CEO and one paragraph from a deranged wannabe politician. There would have been some feeling, some anger, at least some pathos. A photo, say, of workers at the factory gate. Especially considering that
Ford got some federal assistance eight short years ago
. In other words, the government, funded by us taxpayers, helped Ford when times were tough, but now the auto giant is moving all its small vehicle production out of the very country that came to the rescue.
Now, I don't expect a business writer covering the auto beat to start quoting Marx and handing out torches and pitchforks, but isn't something missing here?
It all got me thinking about somebody I miss dearly:
Bill Bonds
.
Bonds hated delivering bad economic news. It was something he did a lot of in the early 1980s, as Detroit hemorrhaged tens of thousands of jobs. In my childhood memories, it seemed Bonds spent night after night blasting the weak economic indicators: the job lines stretching around the block, people losing their homes, the safety net groaning under an increased caseload. He'd get angry, and perhaps angriest of all when his copywriters tried to hide the bad news under passive statements that suggested nobody was to blame. (Take a look at this bit of YouTube gold, Bonds losing his shit over the lack of a simple declarative sentence.)
Despite all his vitriol, Bonds never played the demagogue. He got his facts correct, and never tried to unfairly inflame his viewers' passions. And yet it was a cleansing experience to watch Bonds ask, "What the hell is happening?" and get angry. For the many tens of thousands of jittery factory workers in Detroit in the early 1980s, Bill Bonds was somebody who told you that you weren't crazy to wonder if you'd have your job next year, you weren't nuts to wonder what the country's priorities were.
Bonds got it: You can be furious and fair. Maybe there were two sides to every story, but if that story involved anger, he'd zero in on it and put it right up front, especially when grilling some business leader or politician. You didn't piss down Billy's leg and tell him it was raining.
Of course, nobody in the responsible media gets all that angry about offshoring anymore, right? Even our own Jack Lessenberry says, "Those jobs are not coming back." And that's probably true (
although Lessenberry also has the opportunistic Trump's number
). But even if it is, aren't people entitled to some anger? Some acknowledgement that this is the kind of thing that pisses people off? To declare that, if you feel hosed, you're not crazy?
When our so-called mainstream media leave that part of the story out, and when no responsible figure like Bonds is there to capture it fairly, what happens? You have ceded all that emotional anger to people like Donald Trump, who will then twist the truth as a true demagogue will.
Maybe it's time our people in local media recapture a bit of what old Blue Eyes had: A knack for fairness and a willingness to show a bit of bluster. I see it from time to time in my favorite local columnists. It seems it would be the surest antidote to somebody like Trump.