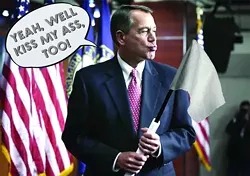 Well, the end of the world as we know it was narrowly averted after a minority of those crazy Republicans in Congress decided it would be better to surrender — for now — than to plunge the nation into an economic depression it might never escape from.
That's not hyperbole, either. In fact, it might even be underestimating what could have happened if Congress hadn't increased the debt ceiling last week. Some economists believe a U.S. default could have started a chain reaction that would ultimately result in destroying the value of the dollar in ways that couldn't be remedied — ever.
This is because, at least since World War II, the world's economic system has been tied to the belief that the United States of America will always honor its obligations. That's why countries — even countries that don't like us — peg their currencies to the dollar … not gold, not the Euro, or some other currency or commodity.
Charley Ballard, a professor of economics at Michigan State University, may know more about this state's economy than anyone, and his book, Michigan's Economic Future, ought to be standard reading for anyone trying to figure it out.
When I asked him a week ago what would happen if Congress hadn't raised the debt limit, he admitted nobody knew precisely what the outcome would be — any more than what would happen in a nuclear war.
"But I and other economists believe that if the U.S. were to default on its debt, it could have devastating effects on the entire world economy," he said. Part of this is psychological: everybody, he noted, from children who buy U.S. savings bonds to big-time investors in U.S. Treasury notes — to terrorists — "have always had complete confidence that the U.S. will honor its obligations." Violating that would be an act of infidelity that would have shaken the world's banking system to its foundations.
"Five years ago, with the collapse of Lehman Brothers, we saw what happens to financial markets when there is a major loss of trust," Ballard told me. When that giant investment bank went belly-up, "… investors [asked], 'If we can't trust Lehman, who can we trust?'"
Ballard then added, "As a result, credit froze, and we got the worst recession of our lifetime. But comparing Lehman Brothers to what would happen if the U.S. Treasury defaulted "would be like comparing a minnow to a whale."
We dodged that — for now — on Oct. 16, when Speaker of the House John Boehner threw in the towel, and Congress voted to suspend the debt ceiling until Feb. 7. Still, a majority — 144 out of 234 — of Republicans voted to keep us on course to disaster.
They included two local members of Congress, "Krazy Kerry" Bentivolio of Milford and Candice Miller of Harrison Township in Macomb County. Both, evidently, have been swigging stale Tea Party Kool-Aid, though Miller, at least, should have known better.
This is all worth rehashing because we'll be facing it again in barely more than three months. Someday, the temptation to take us over the brink may be too much for the crazies.
The GOP's wackos may decide — as many of them already have – to listen to idiots like Ted Yoho, a freshman congressman from Florida, who actually says — and believes — the federal government is no different than his animal veterinary practice. He thinks default would be a great idea that would tell the world "America is finally addressing [its] problem."
Well, those of us who don't want most of our retirement savings to go up in smoke overnight need to do whatever they can to keep the grown-ups in charge.
As they say, write your damn congressman. Call, text, tweet and phone your congressman — make noise, campaign for the right people and do whatever, by any means necessary.
It's your future those nutballs could destroy, comrades.
Back in Lansing
Fortunately, our state lawmakers have no power to threaten the world or even the national economy. In fact, they are incapable of doing anything sensible like, for instance, coming up with the money to fix our roads.
Nor are they willing to go back and save Michigan $600 million-plus dollars by giving the Medicaid expansion immediate effect. They did strike a blow for greatness last week, however: They passed a bill to cut off unemployment benefits for anyone who refuses or fails a drug test.
Yes, sir, nothing more satisfying than striking a meaningless blow against substance abuse, especially when you can whack the poor while doing so. This time the hypocrisy is especially delicious: Remember those two recent former Speakers of the House — Democrat Andy Dillon and Republican Craig DeRoche — each of whom had severe and public alcohol abuse problems? (DeRoche has been arrested more than once and alcohol may have cost Dillon both his marriage and his job as state treasurer.)
One would think — at least for consistency's sake — that state lawmakers who are trying to rescind monies allotted for those unemployed substance abusers would also take back those legislative substance abusers' pensions at the same time?
Naturally, something that transparent and fair-minded never even crossed their little freeloadin' minds, but think about this: Yes, some of the jobless do have substance problems. But, first of all, what collective good comes about by cutting off their unemployment compensation?
Gee, what will they then do? Get a big loan (not from Lehman Brothers) to go back to school and end up becoming electrical engineers or nuclear physicists? Perhaps.
But, then again, with so few jobs available in our jobless recovery, they could end up turning to crime — maybe even violent crime — to fill their stomachs and support their habits.
I wonder which choice is more likely?
Gutless Gov. Rick Snyder will, naturally, sign this into law. After that, word is our lawmakers will turn to another really important task. No, not fixing the schools. Not making it possible for more kids to go to college. No, this is far more important.
They plan to take up another bill that would allow Big Brother to force welfare recipients to undergo drug testing anytime there is even any suspicion they might be doing any drugs. Then they, too, will be deprived of benefits.
What a lovely, generous state. Don't forget to vote for the new state motto: "Pedicabo Páuperem!"
Pleasant Ridge's
Philosopher King
For years, politicians, reporters and everyone in the know has known that if you wanted sound, reliable population data, you could get it from Kurt Metzger — Detroit's numbers guru. Metzger worked for the U.S. Census Bureau for years and later ran the Michigan Metropolitan Information Center at Wayne State University.
At 66, he is taking his career in a new direction by running for mayor of his tiny suburb, Pleasant Ridge, which, in case you aren't sure, is a bedroom community of older, comfortable homes a half-square mile in size, abutting both sides of Woodward Avenue. The larger, more stately homes tend to be on the west; the smaller, more modest homes, where Metzger lives, are on the east — an area residents sardonically call "Peasant Ridge."
There probably isn't anyone as aware of the changing nature of this area's population, or what cities need to do to remain healthy and prosperous. The ancient Greeks used to think the ideal form of government would consist of being led by what they thought of as a "philosopher king."
It would be fascinating to see what someone who really understands population patterns, and how this area works, would do acting as mayor of his own small town.
Jack Lessenberry opines weekly for Metro Times. Send comments to [email protected]