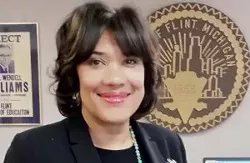 Since October, when Gov. Rick Snyder
finally acknowledged
that Flint had an
real
water crisis, revelations of what went on behind the scenes and who knew what when have been slowly trickling out. To say people are looking less than stellar would be an understatement.

Snyder
and
his cabinet
, the folks at the MDEQ (like
former spokesperson Brad Wurfel
), Emergency Managers
Darnell Earley
and
Ed Kurtz
, former Treasurer
Andy Dillon
, former
Mayor Dayne Walling
, figures behind the
Karegnondi Water Authority
such as
Jeff Wright
— are just a sampling of the men and women who have been scrutinized. In April Attorney General Bill Schuette
pressed criminal charges
against three individuals related to the crisis, noting that this was "just the beginning" and he'd "leave no stone unturned."
The tainting of reputations, however, has taken an unprecedented turn for the unexpected. Monday former City Manager Natasha Henderson
filed a lawsuit
against Flint and its Mayor Karen Weaver, alleging that she was wrongfully terminated in February after she tried to investigate claims that Weaver was diverting Flint water crisis charity funds to a personal campaign political action committee. In other words Henderson is alleging that she was fired by Weaver for being a whistleblower.
True or false, the claim just being out there is devastating. Weaver, for months, has been viewed as a glimmer of hope for the beleaguered city; the light at the end of this murky haze of negligence and deflection. Deposing the city's sitting democratic mayor Dayne Walling in November, Weaver stood out as an individual attempting to take control of a tragic and chaotic situation. She was for the people. When
Snyder balked
at the idea of switching out all of the city's pipes, Weaver pushed back. She was someone the public could get behind, which is why the allegation against her is pretty upsetting.
Weaver, however, is not letting it hold her back. On Wednesday she addressed the allegation calling the lawsuit "outrageously false," and making a plea for residents to continue to support her.
"It saddens me that someone would attempt to taint me as mayor of a city that is dealing with a major public health crisis, which has affected every man, woman and child in Flint," Weaver said in a statement. "I will continue to work hard to serve the people of Flint, seek support for our residents and secure the necessary resources from generous donors from around our great nation to help the city and citizens I have been elected to serve."
Weaver read the comments on WJR-AM 760 in Detroit. She also used the radio interview as a chance to take a quick swipe at Henderson, who was appointed as Flint's city manager by former EM Earley in 2014.
"[Henderson] knew about Legionella but did not say anything," Weaver told host Frank Beckmann, referring to the fact that, since the water switch, Flint has seen an uptick in cases of Legionnaires' disease (between June 2014 and November 2015,
12 people died from the disease
, versus the four years prior when there were only six to 13 cases).
The news of the Legionnaires' outbreak is particularly controversial, as
emails released in February
indicate that Snyder's administration was aware of the spike in Legionnaires' in Flint — and its potential connection to the Flint River — nearly a year before the public was informed about the outbreak.
When Beckmann pressed Weaver for more details about Henderson's knowledge, she responded: "I'm done with my statement now."
Read about Henderson's lawsuit against the mayor
here
.