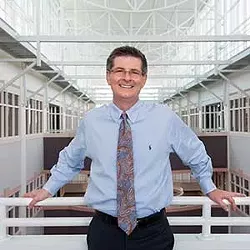 Last week, MSNBC host
Rachel Maddow said
it was "starting to become inconceivable that nobody has gone to jail, or been impeached, or recalled from office" over the Flint's contaminated drinking water.
Today, the
Detroit Free Press
reports
that Michigan Department of Environmental Quality Director Dan Wyant has offered his resignation in the wake of the crisis. The resignation was announced by Gov. Rick Snyder in a news release.
In addition to Wyant's resignation, Snyder also said there would be other personnel changes at the DEQ. Snyder also said he directed both the departments of Environmental Quality and Health and Human Services to invite "every external scientist who has worked on this issue to be our partners in helping us improve Flint water." The administration has also allocated $10 million to test water and distribute water filters to Flint residents.
"I want the Flint community to know how very sorry I am that this has happened," Snyder said. "And I want all Michigan citizens to know that we will learn from this experience, because Flint is not the only city that has an aging infrastructure."
The mainstream media
has been slow
to acknowledge the crisis, and the administration has repeatedly downplayed the severity of it. Former
Metro Times
reporter Curt Guyette has broken news and continuously reported on the story through a partnership with the ACLU. In
an October report
that appeared in
Metro Times
, Guyette investigated Wyant's role in the disaster.
Following an emergency manager-mandated cost-saving changeover from using Detroit's drinking water to sourcing it from the Flint River, it was been revealed that officials did not treat the water to prevent pipe corrosion, causing Flint residents to be exposed to lead.
According to Guyette, Wyant claimed it was because MDEQ staff was "confused," and applied rules intended for cities much smaller than Flint, which has nearly 100,000 residents.