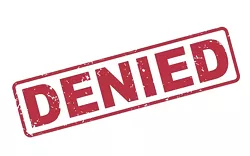 It would appear that the "newly revealed emails ..." rigmarole is wearing on Gov. Rick Snyder. In attempt to perhaps stop the slow leaking of "new" "eyebrow raising" emails every couple of days, Gov. Snyder's team released over 20,000 pages of documents Friday morning.
Some were featured Friday in the Detroit News'
fantastic package
, showing that EPA officials — who warned of an uptick in Legionnaires Disease, possibly tied to the Flint River — had been told in March 2015 that the state would address the problem and alert the public. This alerting, however, did not occur until January 2016. Nearly a year later.
These revelations are shocking, and likely the highlight of the 20,000+page doc dump (we imagine the Detroit News wouldn't have left anything important out). But, of course, there are other gems found in the mix. We're still making our way through the trove (which can be found
here
) but we wanted to first share this seemingly benign document that is, in fact, anything but.
On September 29, 2015, ACLU journalist Curt Guyette sent a detailed Freedom of Information Act request to the State of Michigan's Department of Treasury. The response — which didn't come until December 16, 2015 — gives fascinating insight into the priorities of the department.
While many of Guyette's requests were approved, a number were not and the reasoning is sort mind blowing. Basically, Guyette was told that the reputations of those sending the emails — and their ability to speak freely without fear of third parties reading what they said — trumps public interest. This is a nuts argument considering public officials are servants of the state and should know when writing emails that they are subject to FOIA law (well, all but Snyder, but that's another story). Yet, it seemed to fly.
As the state writes, "The public interest in encouraging frank communications among the Department's employees clearly outweighs the public interest in disclosure in this instance."
WHAT?!
Here is their full explanation.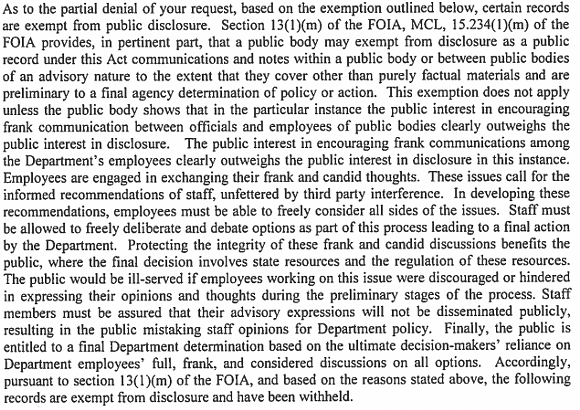 The documents that were denied?
Emails from Nov. 2012 through April 2013. Why are those dates important? Well, October 2012 is when the state approved the Karegnondi Water Authority's request to tap into Lake Huron and it is also the month when the Genesee County Board of Commissioners agreed to borrow $35 million to start construction on the pipeline. In other words this was the beginning of the moves that would eventually lead to Flint deciding to join KWA and ultimately switch to Flint River as a main resources. The denied emails from Nov. 2012 all deal with an assessment of Flint's water supply — as is indicated by their subject lines — and many specifically, have SOW (Statement of Work) in their subject. In November 2013 a SOW was put out as the treasury searched for a contractor to "provide an analysis of the water supply options for the City of Flint to assist the Department of Treasury and the City of Flint in determining the best available option."
April 2013 is important because that's when Ed Kurtz, Flint's Emergency Manager, officially approved Flint's participation in the KWA pipeline. What's most interesting is one of the denied requests is an April 16, 2013 email from Andy Dillon (State Treasurer, who ultimately made the final KWA decision for Flint, since all EM expenses over $50,000 must be approved by Dillon) to Dan Wyant of the DEQ titled "DEQ Position - KWA". As we
reported previously
the day before, April 15, Detroit Water and Sewer Department presented a proposal to Flint that was more cost-effective than the KWA proposal, still Kurtz — with Dillons blessing — rejected it. The decision raises questions about the ultimate motivations behind Flint's decision for joining the KWA pipeline.
Anyway, we're back to sifting through 24,000+ pages of documents. Let us know if you find anything else good in the comments.