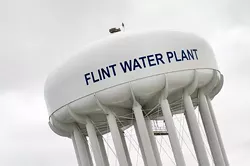 A hefty legal bill has been added to the already hefty price tag of the Flint water crisis.
According to Freedom of Information Act documents obtained by
MLive and The Flint Journal
, Washington, D.C.-based law firm Reed Smith has billed the city more than $361,000 for its services in advising former emergency manager Darnell Earley. Reed Smith was one of three D.C. law firms hired to advise Earley, who is charged with false pretenses, conspiracy to commit false pretenses, and misconduct in office.
According to
MLive
, Earley's total bill for legal services is nearly $500,000, and the state has already spent more than $15 million in legal costs related to the Flint water crisis. And that doesn't even count the
social
and
infrastructural
costs of the crisis.
All this was the consequence of a cost-cutting move to switch water sources that was projected to save the city $5 million over two years. But then again, the Flint water crisis was arguably
never really about saving money
.