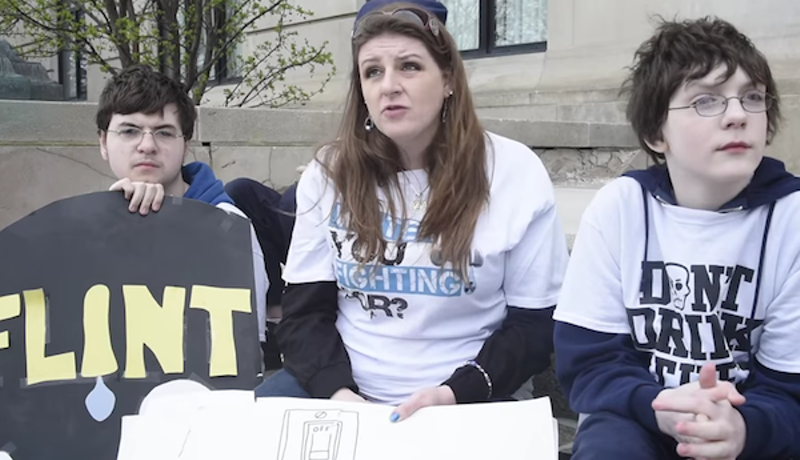 Think about it: What if you lived in a community that paid some of the highest water rates in the country? Now imagine that the water pouring out of your tap is foul-smelling, causes rashes and hair loss, and is classified by the EPA as "hazardous waste." Now imagine that the government is threatening to take your home because you haven't paid those sky-high bills for the water system you're afraid to use. Or are warned
not
to use if you're
pregnant
or already sick.
That's more or less what's happening in Flint, where a crippling combination of unrealistically high water costs, persistent poverty, and cruel outside interference have made it all but impossible for some households to pay their bills.
It's a question our own Larry Gabriel asked. Last year, after seeing that Flint residents paid about $832 per household for water service,
he said
, "Flint residents pay more than anybody else in the entire nation for water that makes them sick. And that's in a city with 40 percent of its people living below the poverty line."
Last week we learned that even Melissa Mays, the courageous Flint mom who was instrumental in uncovering the fact that Flint water was toxic, faces tax foreclosure.
According to reports
, Mays' household is already dealing with medical costs related to serious health problems , as well as $1,500 in hot water heaters destroyed by chemicals and sediment in their pipes.
This all happened to the people of Flint through no fault of their own, of course. It happened because the state's Republicans and their slick, venture capitalist governor, rammed through a law the people had rejected — a law that takes power away from elected officials and puts it in the hands of people who are utterly unaccountable. It was they who decided to route untreated river water through the city's water system, in all likelihood causing permanent brain damage to many of the city's children.
Now, many of these households will lose their homes as well. Residents have until May 19 to pay or face foreclosure next year.
To sign a petition opposing the evictions and proposing an upcoming gun sale benefits those facing arrears, click here.