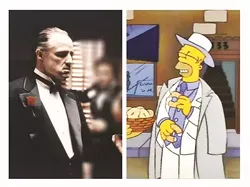 Well, like, duh!!! Do you think? I mean, like how could somebody charged with overseeing the affairs of Michigan's largest county possibly say something like that?
OK, so the commissioners have never organized sufficient oversight over anything, which has just cost Wayne County taxpayers at least $125 million to partly build a jail that will never be finished because of horrendous cost overruns.
Cost overruns that weren't approved by the commission, or the Wayne County Building Authority, or the thoroughly appalling county executive, Robert Ficano, whose constant excuse is that he had no idea what was going on.
No, there's never any oversight at Wayne County, a place whose thoroughly corrupt, pay-to-play tone was set by Ethical Minimum Bob's predecessor, Boss Ed McNamara. The boss did have a certain style. Years ago, county taxpayers voted to build a new youth jail. McNamara used the money for something else instead, and managed to get away with it. That takes cojones.
McNamara croaked, by the way, seven years ago, three years after stepping down as Wayne County Executive. Less than two months before he left, the FBI swooped down and raided his offices, reportedly seeking information on alleged campaign financing and airport contract violations.
Soon, however, it was learned that the old man had terminal cancer. Whether for that reason — or because there was just not enough evidence — he was never indicted.
But as then-Mayor Kwame Kilpatrick said at the old buzzard's funeral, "Politicians of today, from me to Gov. (Jennifer) Granholm, have taken a page out of the McNamara playbook from time to time." Our Felonious Dishonor knew what he was talking about; his daddy, the now-also-convicted Bernard Kilpatrick, had once been an elected commissioner and an enemy of McNamara. That is, till Boss Ed put him on the payroll. (Years ago, the hulking Bernard was pointed out to me by a reporter who said, 'His nickname is Killer"; which it was.)
That's the county that Bob Ficano inherited and, by all accounts, he has been a different kind of county executive. Think Homer Simpson replacing Don Corleone.
Here's something that nobody, till now, has been willing to say: Robert Ficano and the various stooges on the Wayne County Commission have cost Wayne County far more than the Kilpatricks and their ilk cost poor Detroit.
How can I say that? Simple: Kwame is — as everyone knows — thoroughly corrupt; having been convicted in federal court, he is now squatting in a prison cell, awaiting sentencing in October.
Nobody has accused the colorless Bob Ficano of any criminal activity and, indeed, there is no evidence he is guilty of anything except incompetence, stupidity, cronyism and failing completely to exercise oversight. But look at the numbers:
Kwame Kilpatrick cost the city $8
million for the unlawful discharge lawsuit filed by Gary Brown, and maybe upward of $1 million in legal fees; throw in however much was drained away in various forms of corrupt behavior.
Bad as that is, there is no way it approaches the nearly $125 million flushed down the drain with the new jail; plus all the other county scandals. Remember Turkia Awada Mullin, the former Wayne County economic development director?
Two years ago, she was suddenly chosen as CEO of Detroit Metropolitan Airport, despite having few apparent qualifications. The Airport Authority Board — a majority of whose members are appointed by Ficano — selected her over other candidates who had actually done things … like run airports.
You do have to say this for Mullin: For a Muslim woman, she has chutzpah. She then wangled and accepted a $200,000 "severance payment" for leaving her county job.
How many people get severance payments to voluntarily quit one job and take a better one, especially one working for what is essentially the same entity? This happened, remember, at the time when the cash-strapped county was laying off a bunch of poor $40,000-a-year working stiffs.
Well, someone blew the whistle on this. Mullin gave the severance money back, but the board fired her anyway, on the perhaps appropriate day of Halloween, 2011. She sued, and, this April, an arbitrator wrote she was wrongly fired, and the airport had to pay her $712,328. Not a bad deal for her.
But a terrible one for all us regular people who will have to pay for this, once the airport figures out some way to pass on the costs. (Allegedly, she is now trying to get her severance money back too.)
There are probably many more examples of government — Wayne County-style — but for sheer waste, the jail can't be beat. At least, we taxpayers better hope so.
How the jail mess happened deserves consideration. As has been previously reported, the Wayne County Building Authority was supposed to oversee the project, including costs. But they turned that responsibility over to the contactors, Ghafari Associates and AECOM. Those entities happily approved more than $42 million in cost overruns — cheerfully approving whatever they wanted to spend — before anyone noticed.
According to press reports, they also put the guy on the payroll who was supposed to be keeping an eye on them.Now, had this happened in the private sector, Ficano undoubtedly would have been fired unceremoniously, long ago.
Fired and likely sued; so would most of the commissioners. That doesn't include Laura Cox, whom I quoted at the beginning of this column. She has been a rare and frequent critic of the Ficano administration.But she is a Republican, and hence has no more clout in that body than Democrats do in the state legislature. Mainly, her protests have been ignored — by the politicians and the media.
Yet there's a silver lining here. This mess also presents the state with a rare and valuable chance to fix both corrupt Wayne County and its bankrupt and devastated central city, Detroit.
What's needed is to wipe the slate over, start clean — and merge Detroit and Wayne County into one supercity.
Do the research and think about it. Where this has been tried — Nashville, Miami and Indianapolis — the combined entity has almost always grown in size and thrived. Detroit, even after
bankruptcy presumably wipes the slate clean, cannot possibly be economically viable on its own. Wayne County government is so thoroughly corrupt it needs to be reinvented from scratch. And to exclude its central city doesn't make any sense at all. The two, combined, have a lot in common with Detroit at its peak.
We would suddenly have a city of 1,792,000 people; 55 percent white; 40 percent black. Parts would be desperate, but parts quite wealthy and capable of building up the whole.
Mike Duggan, who will most likely be elected mayor of Detroit in November, is actually a longtime Livonia resident and former deputy county executive who knows the place. He would probably be the best choice to run it. No solution is perfect, but this one makes more sense than any other. Combining them will be politically difficult; starting over will be hard work; restoring Detroit would be expensive.
What, really, do we have to lose by trying?
Jack Lessenberry opines weekly for Metro Times. Send comments to [email protected]