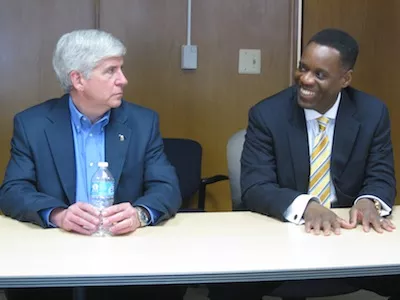 Amid all the
cheerleading surrounding a "reborn" Detroit
, with our local news media sounding huzzahs over a successful bankruptcy and interviewers gushing over people like Gov. Rick Snyder and Kevyn Orr as if they were celebrities, a lot of troubling facts are being lost in the shuffle. Since we figure it's our job to provide a corrective to all this, here's this morning's reply to this celebration, garnered mostly from reporting in our own weekly paper, and assembled to the best of our knowledge this morning after several cups of coffee. It's the five things about Detroit's bankruptcy nobody in the mainstream media will likely mention today.
1) It didn't have to happen
Bankruptcy, now portrayed as inevitable, wasn't necessary to begin with. Several years ago, Lansing got Detroit to reduce its tax rate in exchange for a promise that Detroit's revenue-sharing wouldn't be cut. With reduced tax revenues, the city abided by the agreement and put its precious faith in Lansing to come through on its promise. Under Gov. Snyder, the revenue-sharing was cut when Lansing went back on its word, leaving the city in the lurch. Had Lansing not broken its word, many knowledgable observers say, the city would not have been pushed over the edge into bankruptcy. Even
senior banking officials
have acknowledged that the entire bankruptcy was not needed.
2) Race was a potent factor in enabling the takeover of Michigan's cities by emergency managers
As
Bloomberg news reported
a year-and-a-half ago, "When emergency manager Kevyn Orr arrives in near-bankrupt Detroit, almost half of Michigan's black population will live under the rule of state overseers with little say in the governments nearest them." In Michigan, where outstate whites often view urban, African-American residents with suspicion and prejudice, it's fair to conclude that opinion would have swung in a different direction if the state's Caucasian residents bore the brunt of this selective suspension of democracy. Yet, most commentators downplayed race as a factor.
3) It was pre-ordained and planned as a test case to see if governments could shed pension obligations
Even one of the major players in the case, U.S. Judge Steven Rhodes, noted that an alternate "composite narrative" existed for the bankruptcy, in which "the bankruptcy was the intended consequence of a years-long, strategic plan." Some critics trace that narrative back to 2011 piece titled "
Pensions and Chapter 9: Can Municipalities Use Bankruptcy to Solve Their Pension Woes?
" that appeared in the Emory Law School's
Bankruptcy Developments Journal
, authored by attorneys Jeffrey B. Ellman and Daniel J. Merrett, both employees of Jones Day. As
Curt Guyette wrote
, "For Ellman and Merrett, the concern wasn't how to explore ways to keep those obligations, but rather in explaining how cash-strapped cities might evade them."
Why did Michigan's largest city present such a tempting test case? If you could alter pension obligations in Michigan, where the matter is written into the state constitution, then you might be more likely to get away with it elsewhere.
Then there's the way Lansing's legislature rammed through the expanded Emergency Manager legislation and implemented it right away. And when the people of Michigan voted it down in a referendum, the lame duck legislature rammed it right through again in a way it wouldn't be subject to referendum again, suggesting the players had a schedule they had to keep to. Documents later surfaced showing Jones Day was already preparing documents related to a Detroit bankruptcy even as Gov. Snyder was saying it was only a last resort.
As Guyette reported last week, once the bankruptcy would be approved,
about $7 billion of the $18 billion in liabilities will be trimmed in bankruptcy, according to the most recent news accounts. Of that $7 billion, it appears as if nearly 80 percent is being taken from retirees
. This is entirely in keeping with the "composite narrative" mentioned Judge Rhodes.
4) Democracy is not returning to Detroit
It's surprising how, in just a few short years, the very idea of local control being taken away from a city and dangled before a populace for more than a decade has become normalized. Detroit is the first step in this process. Detroit will be run, at least superficially, as if it were a democracy, but the decisions the democratic process produces will likely be overruled by boards and commissions, who may continue to exercise a sort of veto power over the administration of the city, largely influenced by Lansing, the very entity that got Detroit into this process. There will be, among other assemblies, a nine-member oversight commission (with seven Lansing appointees) for 13 years, and probably a Lansing-appointed Transition Advisory Board to monitor Detroit City Council, and even the possibility that the city's nine-member Financial Advisory Board may continue to meet. After all, since Lansing and out-of-state lawyers went to all the trouble to set up these mechanisms of control, we imagine they'll be rather reluctant to dissolve any body that wields power over the subjects of their rule.
5) This whole ordeal would have been impossible without the aid of the mainstream media in Detroit
The very media personalities and journalists celebrating today with banner headlines were the ones who hewed to a narrative that the bankruptcy was about dollars and not race, and that it was inescapable, benign, and that a new day is beginning. Certainly, if they had done their job of investigating as thoroughly as such reporters as Curt Guyette and Ryan Felton did, they'd have come to much more complicated conclusions. Their daily cheerleading for Kevyn Orr and Gov. Rick Snyder exhibits some kind of new low in journalists abdicating their duty to be the skeptical interrogators of the powerful. A journalist's job, as they used to say, is "to comfort the afflicted and afflict the comfortable." This episode offers proof that, with a few exceptions, Detroit media simply don't do that anymore.