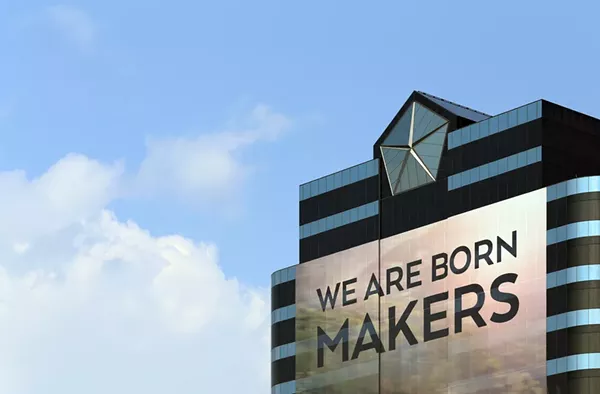 This week's
Metro Times
cover story
looks at the symbiotic relationship between President Donald Trump and the Big Three automakers. On numerous occasions over the past year, Trump has taken credit for news in the auto industry — some of which occurred before he even took office. But the Big Three has appeared to be more or less OK with this, so long as it keeps Trump from bullying them on Twitter.
A recurring theme has been the automakers' reliance on cheap Mexican labor. Trump has hammered the Big Three repeatedly on this point since the campaign trail, threatening to impose a tariff on Mexican-made vehicles and to tear up the North American Free Trade Agreement. The Big Three want neither of those things, so they throw Trump a bone here and there to try to keep him off their asses.
Take Fiat-Chrysler's latest news, announced on Thursday just ahead of the North American International Auto Show. The company said it will move production of its Ram Heavy Duty trucks from Mexico to Michigan and invest more than $1 billion to modernize its Warren Truck Plant, adding 2,500 jobs by 2020.
Fiat-Chrysler CEO Sergio Marchionne went out of its way to credit Trump's federal tax overhaul in making the move possible, which cut the corporate tax rate from 35 percent to 21 percent. The company also said that thanks to Trump's tax cuts, 60,000 of its hourly and salaried employees in the U.S. would get $2,000 bonuses.
The press release was in contrast to some of the industry's
more ambiguous announcements
, like Ford's news that it was canceling a planned Mexican plant as both a "vote of confidence" in Trump (though
he also admitted
it was because "we're not seeing the volume and the demand that we expected for that plant").
"These announcements reflect our ongoing commitment to our U.S. manufacturing footprint and the dedicated employees who have contributed to FCA's success," Marchionne said in a statement. "It is only proper that our employees share in the savings generated by tax reform and that we openly acknowledge the resulting improvement in the U.S. business environment by investing in our industrial footprint accordingly."
It's exactly the kind of news that plays well with Trump, and the Commander in Tweets was quick to head to his favorite social media platform to take credit.
More great news as a result of historical Tax Cuts and Reform: Fiat Chrysler announces plan to invest more than $1 BILLION in Michigan plant, relocating their heavy-truck production from Mexico to Michigan, adding 2,500 new jobs and paying $2,000 bonus to U.S. employees! pic.twitter.com/47azKD0l9B

— Donald J. Trump (@realDonaldTrump) January 12, 2018
Chrysler is moving a massive plant from Mexico to Michigan, reversing a years long opposite trend. Thank you Chrysler, a very wise decision. The voters in Michigan are very happy they voted for Trump/Pence. Plenty of more to follow!

— Donald J. Trump (@realDonaldTrump) January 12, 2018
However, an auto industry expert
told the Free Press
that Fiat-Chrysler's move was at likely at least partially an attempt to get on Trump's good side at a crucial time while NAFTA is under negotiations. Again, the Big Three really, really do not want Trump to fuck with NAFTA.
"With all the uncertainty surrounding NAFTA, it just makes sense to do this and eliminate the potential negative impact," Kristin Dziczek, director of the industry, labor, and economics group at Ann Arbor's Center for Automotive Research, told the
Free Press
.
There are a couple other points to consider to keep the Fiat-Chrysler announcement in perspective. One, Fiat-Chrysler's jobs announcement, while considerable, does not make up for the industry's losses. The
Freep
reports auto industry manufacturing employment in the U.S. dropped from 788,900 in December 2016 to 783,200 in November 2017 — a decline of 5,700. Sales were also down in 2017 from a historic high in 2016, and are expected to slip further in 2018. (The
Freep
also noted
that analysts say many jobs will go to autoworkers whose jobs would been eliminated at other plants, and also by shifting temporary workers into full-time roles.)
And two, these jobs announcements, while making for great P.R. for both the industry and Trump, have little effect on the grand scheme of things.
In reference to Trump's fondness for labelling things "Fake News,"
New York Time
op-ed columnist Paul Krugman called the jobs announcements
"The Age of Fake Policy."
(This was the same publication that proclaimed,
perhaps a bit too giddily,
that "Even before he takes office, Trump knocks automakers on their heels" when Ford announced it was scrapping the Mexican plant last year.)
In addition to the Big Three's jobs announcements from last year, Krugman cited Trump's efforts to save 800 jobs at Indiana-based HVAC manufacturer Carrier. The original announcement got a ton of hoo-ha in the media.
"[It] may have sounded as if Mr. Trump was doing something substantive by intervening with Carrier, but he wasn't," Krugman writes. "This was fake policy — a show intended to impress the rubes, not to achieve real results."
And Krugman was right. It was all a bunch of hot air. The company later decided to lay off more than 500 workers, leading to some Trump-voting Carrier employees
to feel bullshitted
.
Krugman also had this bit of advice:
"Sorry, folks, but headlines that repeat Trump claims about jobs saved, without conveying the essential fakeness of those claims, are a betrayal of journalism."