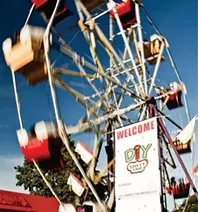 Ferndale's DIY Street Fair got it start in 2008 and since then locals have loved the indie festival that features local artists. music, and food. But this year, thanks to some annoyingly scheduled construction, the fair was cancelled.
Yesterday, however, the folks behind the festival announced
via Facebook
that DIY Street Fair is once again on the books for Sept. 12,13, and 14.
In the spring, DIY 2014 was cancelled due to upcoming large scale road improvements. Now that the construction plans have been postponed, we declare DIY GAME ON!*

We were overwhelmed by the outpouring of love and support for this event. We would like to thank the thousands who wrote, called and spoke up in support of continuing the event, regardless of it's size or location. We are happy to announce that we will be able to continue on with this Ferndale tradition in its regular location in Fabulous Ferndale— where the dream began.

Sept 12-14. Updated website with vendor/artist/music application will be up soon!

*PENDING APPROVAL FROM THE CITY OF FERNDALE
While festival organizers have announced the fair will go on, there is one caveat: City approval. Vendor applications are currently live on their website, but it remains to be seen if Ferndale officials will approve the event.
Additionally, the DIYSF will have only a little over a month to pull together an event, which might prove difficult.
Vendors can apply here.
Bands can apply here.