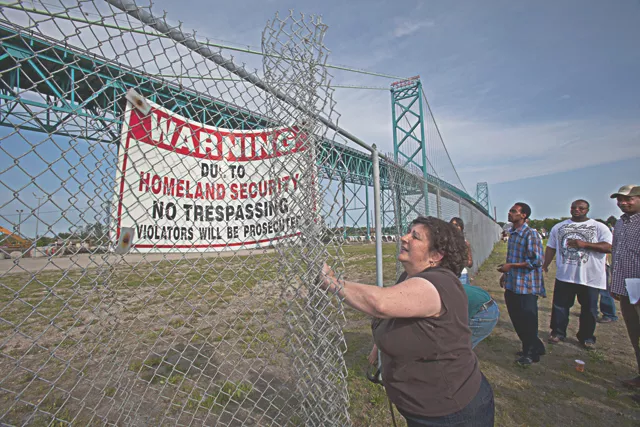 There were no pitchforks, but there were bolt cutters and power tools and shovels when residents of southwest Detroit rose up last week to take down a fence that has long served as both a physical barrier to public property and a symbol of a politically powerful billionaire's arrogance.
The chain-link fence was erected shortly after 9/11 by Manuel "Matty" Moroun's Detroit International Bridge Co., owner of the Ambassador Bridge. It was done with the permission of then-Mayor Dennis Archer, but the intent, at least on the part of the city, was never to have that fence become a permanent fixture.
But once up, people largely forgot about it. Then blogger Joel Thurtell, a former Free Press reporter, got harassed by what he described as one of Matty's "shotgun toting goons" while taking photos of the privately owned Ambassador Bridge from public property.
Thurtell took the assault on his rights personally, and started raising a stink on his blog (joelontheroad.com). That was in October 2008. Other media — especially this rag — began doing follow-up reporting. Among other things, we found that "no trespassing" signs seemingly posted by the Department of Homeland Security were the handiwork of the bridge company.
We also exposed the bridge company's flimsy claim that the fence was needed to secure the bridge from terrorists. With a video camera-toting intern along, we approached the structure from the side opposite the park, and walked right up to the massive piers supporting the bridge.
The real issue has been the new bridge Matty wants to build next to the existing span. Follow the trajectory of what we like to call the ramp to nowhere — the multi-lane elevated approach to the hoped-for new span — and it's clear. The company needs that parkland to build that second crossing.
So the city went to court to get squatter Matty Moroun to tear down the fence and return to the city a 200-foot-wide swath of property.
After losing the opening round in district court, the company appealed in circuit court, where the case has been inexplicably languishing. It is not a complicated issue. But the bridge company's lawyers are clever and adept at clouding clear waters. Among the tools in their bag of tricks is the claim that, because it moves traffic across an international boundary, the company is an instrument of the federal government. Several years ago, after the city took issue with the fact that the company was ignoring zoning laws, the state Supreme Court agreed with that view. But even that ruling, flawed as we think it is, recognized that such a claim was extremely limited in scope.
That limited scope, by the way, was completely blown away last week when U.S. District Court Judge Robert H. Cleland ruled that the bridge company "is not a federal instrumentality or limited federal instrumentality or any type of arm, appendage, or agent of the federal government entitled to any immunity from state or local regulation."
The judge also ordered that the company and its corporate affiliates "are to cease and desist from representing that they are any kind of federal instrumentality or other arm, appendage, or agent of the federal government, in state court, federal court, or elsewhere."
And so, when a 100 or so people gathered late Friday afternoon, more than a piece of parkland was at stake. "It was just regular people tired of this billion-dollar corporation trampling over their rights," says state Rep. Rashida Tlaib, whose district includes the park. "I was overwhelmed by everyone's passion. You could see it in their faces as they were tearing down that fence, the complete frustration. They are tired of the broken promises and blatant disregard of the law."
We called bridge company President Dan Stamper — who not that long ago was led from court in handcuffs for violating a judge's order in another bridge company case — to get his take on the situation. He didn't call back. (Dan, is it something we've said?)
We did, however, catch a statement he made to Fox 2 News after Friday's uprising.
"I had personally met with the law department of the city last week and the CEO of the city and he asked me in good faith will you take down the fence and move it back to your land, and we said we would in good faith," he said. "So, I think today's show of people showing up and ripping down the fence is just to try to make some hay out of it knowing that we were going to do that anyway."
We have some knowledge of Stamper and his veracity. (He once told us that the bridge was completely fenced off, which is why we went out there with our video camera.) So we called Crystal Crittendon, head of the city's Law Department.
She confirmed that the fence was discussed in a meeting, but noted, "I didn't leave with clear impression that it was coming down."
Adds Tlaib: "I personally got updated on the status two days before, and the city of Detroit informed me that they were at a standstill."
But disregard for the truth and chicanery are nothing new for the bridge company. Or its allies. On Monday, the Michigan arm of an archconservative group called Americans for Prosperity posted faux eviction notices on the homes of residents in the Delray area, where the state would like to build a new, publicly owned bridge that would offer competition for Matty's Ambassador Bridge.
Some people panicked. Others immediately "smelled a rat," as Simone Sagovac, with the nonprofit group Southwest Detroit Environmental Vision, told us. The Michigan affiliate has refused to discuss its funding, but many suspect it's from Matty.
Motivated by years of Moroun's disdain, people finally rose up, Boston Tea Party-style. Credit the cops who looked on for not attempting to stop them.
"It feels like a tremendous weight has been lifted from our shoulders," says Joe Rashid, one of the organizers of the action. "It is a powerful feeling taking ownership of something that is really ours."