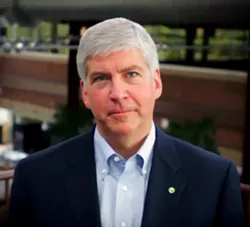 The US Attorney's office announced yesterday that it will begin an investigation in the handling of the Flint water crisis, a move that many residents and advocates hope will lead to answers and accountability around decisions that have resulted in the lead contamination of the city's drinking water.
Following the news Governor Rick Snyder announced a state of emergency in Flint saying the decision was "due to the ongoing health and safety issues caused by lead in the city of Flint's drinking water."
By declaring a state of emergency Flint can now access state resources, such as Michigan State Police's homeland security division. More noteworthy the move qualifies the city for federal aid from the Federal Emergency Management Agency (FEMA), who can now do a damage assessment.
"The state of Michigan will use its resources to the fullest possible extent during this emergency," a statement by the Michigan Emergency Management, Homeland Security Division said. "If state and local resources are unable to cope with the emergency, the Governor may request federal assistance."
While the declaration means more resources — and hopefully a quicker recovery for the devastated city — the news of a formal federal investigation into the whole affair is just as welcomed.
On Monday Rachel Maddow
covered
the Flint Crisis,
once again
, and pointed out a very frustrating obstacle for anyone trying to get to the bottom of what happened in Flint: the governor is exempt from Freedom of Information Act requests in Michigan. This means that while journalists, activists, lawyers and citizens can sort of hash together (by sending in FOIA requests to people around the Flint fiasco such as the MDEQ) what happened the actual role of Gov. Snyder is somewhat obscured*. Michigan is just one of two states (Massachusetts is the other) where the governor is exempt from FOIA law. The federal probe will alter the status quo, as it will allow documents and emails from the governor to be subpoenaed.
While the US Attorney's office — an offshoot of the Department of Justice — has not indicated whether or not their probe is civil or criminal, the
Free Press
spoke with Peter Henning, a former federal prosecutor and a professor at Wayne State University Law School, who gave some insight.
"...if the investigation relates to potential wrongdoing by the city or the state, it is almost certainly a civil investigation, which could result in a consent agreement between the public entity and the Justice Department. If the investigation relates to possible wrongdoing by individuals, it could potentially be a criminal investigation, Henning said."
Correction: A previous version of this article gave the example of citizens being able to FOIA David Murray, Gov. Snyder's spokesperson, to find out details about what was happening behind the scenes of the Flint Crisis. People, however, would not be able to FOIA Murray since he is part of the governor's office, which is totally exempt from FOIA.