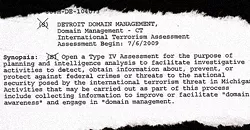 Citing documents obtained through the Freedom of Information Act, the ACLU alleged last week that the FBI is unconstitutionally targeting specific religious, racial and ethnic groups for broad-based investigations.
It is a story with a strong local angle.
"Without any evidence of actual wrongdoing and based on a generalized and entirely unsubstantiated threat assertion, the Detroit FBI sought to collect information about Middle Eastern and Muslim communities in Michigan," the civil liberties group asserts.
In essence, it is being alleged, the FBI is using census data and other demographic info to take racial profiling to a whole new level.
"The use of profiling as a tool to address crime and national security threats is not only unconstitutional, it is ineffective and counterproductive," says Michael German, an ACLU senior policy counsel and a former FBI agent. "Targeting entire communities for investigation based on erroneous stereotypes produces flawed intelligence. Experience shows that terrorists and criminals do not fit into neat racial or religious stereotypes — law enforcement programs based on evidence and facts are effective, and a system of bias and mass suspicion is not."
Osama Siblani, publisher of the Arab American News in Dearborn, tells News Hits that he is "shocked by the revelations, but not surprised."
"Every time you think the FBI has gone as low as it can go, it goes lower," Siblani says. "I have news for them: We are American citizens, and they are violating our civil rights and our privacy. By doing things like this, they are defeating their own purpose."
The local branch of the FBI refused to comment, directing us instead to a statement released by the national office. While saying that it joins with the ACLU in opposing racial or ethnic discrimination, the feds defended the so-called "domain management" program, saying in part:
"Certain terrorist and criminal groups target particular ethnic and geographic communities for victimization and/or recruitment purposes. This reality must be taken into account when determining if there are threats to the United States."
"Just as putting push pins on a map will allow a local police chief to see clearly where the highest crime areas are, combining data that is lawfully collected into one place allows connections to be identified that might otherwise go unnoticed."
Except that the problem here is that the FBI is sticking pins into spots where it thinks crimes might be committed based on who is living in a particular area.
The ACLU's efforts to expose this issue began last year when it filed FOIA requests with FBI field offices in various parts of the country. When the FBI balked here in Michigan, the state's ACLU branch filed a lawsuit in federal court. Negotiations resulted in the bureau turning over some previously classified information. 
"The FBI's own documents confirm our worst fears about how it is using its overly expansive surveillance and racial profiling authority. The FBI has targeted minority American communities around the country for investigation based not on suspicion of actual wrongdoing, but on the crudest stereotypes about which groups commit different types of crimes," says Hina Shamsi, director of the ACLU National Security Project. 
More documents sought by the ACLU are slated to be released later this month. Just how widespread the FBI's "domain management" program is, and all it entails, remains to be seen. 
You can find out more about the issue, and browse documents that have been turned over so far, by visiting the "Mapping the FBI" feature found on the civil liberty group's website at aclu.org.