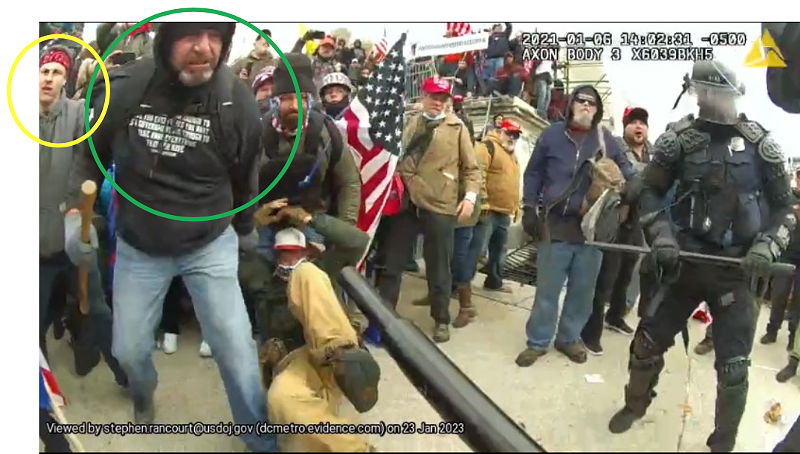 Two Wayne County cousins were arrested Wednesday on charges of storming the U.S. Capitol and clashing with federal law enforcement during the Jan. 6 insurrection.
Kyle Mlynarek, 27, of Redford, and Ronald Balhorn, 53, of Garden City, face numerous charges, including interfering with law enforcement and disorderly conduct.
They are the 22nd and 23rd Michigan residents to be charged for their involvement in the riot.
In the afternoon of the insurrection, the cousins were in a violent mob that pushed police officers, according to
the federal complaint
.
One of the officers cried out in a video, "We're being trampled."
Mlynarek and Balhorn, who was wielding a wooden club, continued pushing and appeared to struggle with an officer to move past him, the complaint states.
Once inside the Capitol, the cousins joined a large crowd that was pushing past officers.
The cousins' actions were caught on videos and photographs.
On a Facebook post riddled with grammar errors, Mlynarek uploaded videos from inside the U.S. Capitol and complained "about these motherfuckers thinking they can come take away our guns, burn/kneel on our nations flag and anthem, shut down our businesses, force people to wear something when it's a personal choice, use social media to divide us, have bullshit rigged elections, give money to other countries before taking care of us and our needs first."
He concluded, "if u have a problem with that then fuck off and stay out of the way."
In the evening following the riot, Mlynarek bragged about getting into the Capitol in a text message with a friend.
"Don't fuck with freedom, that's just a small taste," he wrote.
The FBI was tipped off about the cousins a few days after the attack. It's unclear why it took more than two years to arrest them. The FBI attempted to interview the cousins on Jan. 13, 2022, but they refused to talk.
More than two years after the riot, the FBI continues to arrest people for their role in the insurrection.
Earlier this week,
the FBI arrested a Michigan couple
— Isaac Thomas, 20, of Flint, and Christina Legros, 22, of Beaverton — for storming the Capitol. Thomas is accused of striking multiple officers with the pole of a blue Trump flag.
So far, more than 950 people have been charged in connection with the riot. Of those, 248 have been charged with assaulting or impeding officers.
Coming soon: Metro Times Daily newsletter. We'll send you a handful of interesting Detroit stories every morning. Subscribe now to not miss a thing.

Follow us: Google News | NewsBreak | Reddit | Instagram | Facebook | Twitter