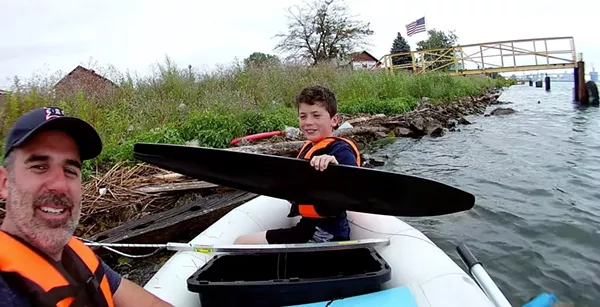 Last month, in our inaugural boat issue, we brought you the story of two Detroiters who spend some of their free time
magnet fishing for metallic objects
at the bottom of the city's canals.
Now, we've discovered another pair of people who partake in a form of alternative fishing. But they're not on the prowl for treasure, they're fishing for trash.
Father-and-son duo Tom and Mark Nardone started trash-fishing on the Detroit River this summer as a way to clean it up. The activity was one they could both enjoy, as it's far more dynamic than holding a rod and waiting for a pull.
"We've tried fishing but honestly it's kind of tough for a kid to sit there waiting, it's a little boring," Tom Nardone tells
Metro Times.

The idea to start trash-fishing came about after young Mark saw a video on the trash that collects in Detroit's waterways and became inspired to do something about it. So dad Tom invested in a little boat, and the two began taking jaunts out on the river.
Using a plastic grabber tool, the pair routinely fish out bottles and other forms of debris. They've also cleared out water skis and even National Guard buoy — their favorite find yet.
One of the Nardone's excursions is chronicled in the YouTube video below:
This is not the elder Nardone's first eco-friendly endeavor in Detroit. He previously led the
Detroit Mower Gang
, a group dedicated to cleaning up the city's abandoned parks and playgrounds.
Mark has been following in his dad's footsteps, doing cleanups through his Boy Scout troop and helping with the mower gang initiative. Mark plans to eventually introduce trash-fishing to his fellow Eagle Scouts.
For now, though, the pair are hoping to get more people involved in the activity through social media.
If you want to join them in helping clear debris from the Detroit River, they and others will be launching from the
Delray Boat Ramp at 10 a.m. Sunday
. Be sure to bring a small boat, garbage bag, and something to fish with (a net will do). More information is available at a trash-fishing
website
and
Facebook page
.
Jacob Stocking is a summer editorial intern at the MetroTimes.
Stay on top of Detroit news and views. Sign up for our weekly issue newsletter delivered each Wednesday.