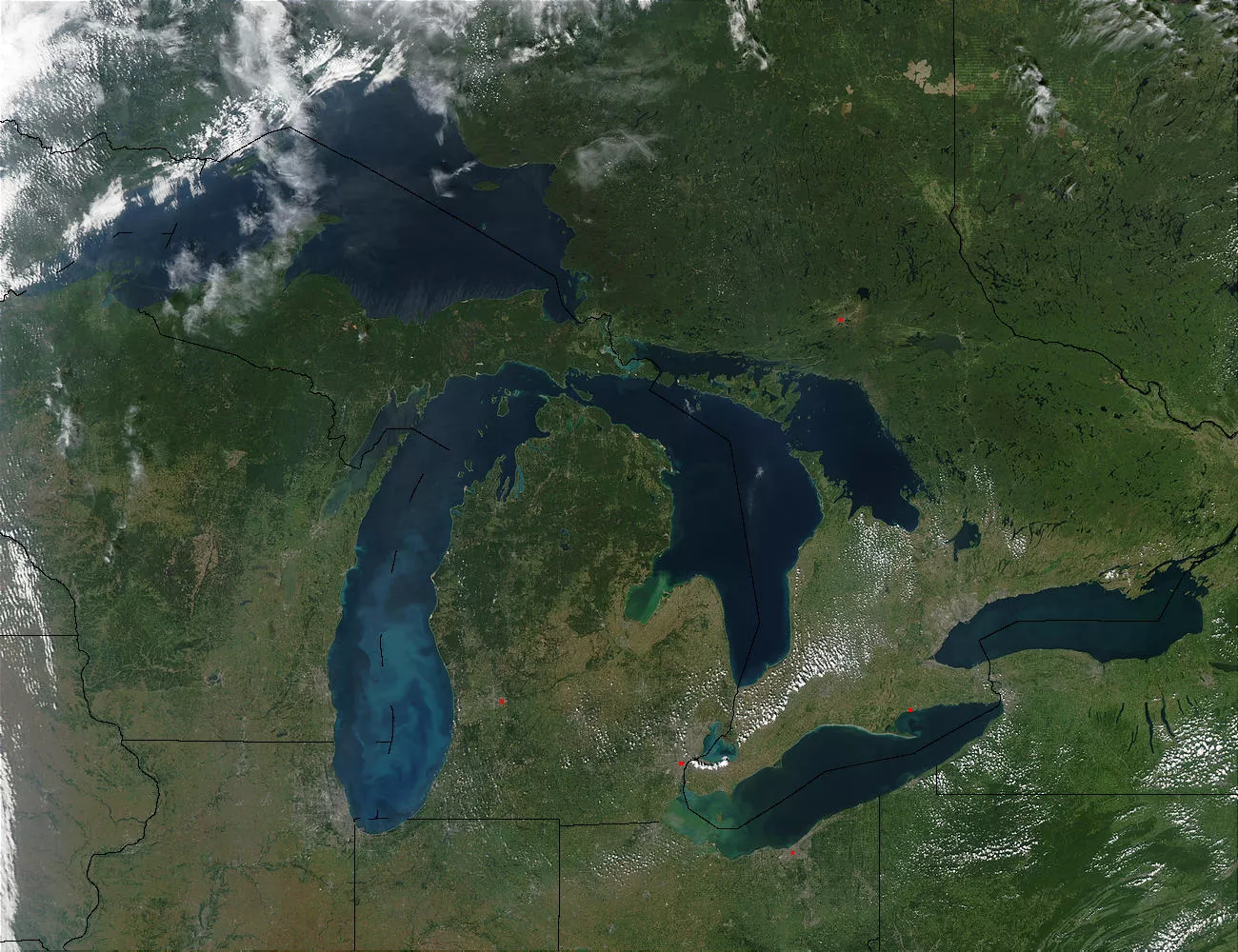 Don't it always seem to go
That you don't know what you've got till it's gone.
—Joni Mitchell
Here's something that you should find far scarier than a whole brigade of religious nuts with explosives in their underwear: The ignorant, callous right-wing nuts in the Ohio Legislature passed a bill this month that could have destroyed Lake Erie. That's not an exaggeration. Ohio House Bill 231 would have allowed businesses to withdraw up to 5 million gallons a day from the lake without even getting any kind of permit.
What's more, they could have siphoned off another 2 million gallons a day from inland rivers and streams. True, Ohio, Michigan and the other six Great Lakes states, Congress and Canada signed an agreement a couple years ago called the Great Lakes Compact that was designed to protect the lakes, the largest source of fresh water in the world. But the cretins couldn't care less about such things.
This was the dead brainchild, by the way, of an Ohio state representative named Lynn Wachtmann, who lives in a hamlet called Napoleon outside Toledo. Wachtmann has the interests of the public at heart, all right. He owns a business that pumps water out of the Lake Erie watershed and wants to get even richer, faster.
Destroy the Great Lakes, and this region has no future. They are immense, but any scientist can tell you how delicate the ecology is. We've been working hard for years at damaging them.
We've pumped pollution into the lakes, introduced invasive species and seem unwilling to do what's needed to stop the Asian carp, which are likely to do their worst damage to Lake Erie.
And now this. What would pumping that water out likely do to the lake? Well, many bad things. But at the top of the list is create a perfect breeding ground for toxic, ugly, blue-green algae.
This eyesore smells as bad as it looks, produces a toxin that is harmful to both humans and animals and is already a growing threat. That's thanks to farms, especially megafarms and factory farms, which produce large amounts of phosphorus as a byproduct, a chemical that then leaches into the lakes. Lowering the water level concentrates the phosphorus.
Phosphorus is what makes the algae grow. We literally could be facing an ecological disaster. (The moon-faced Wachtmann says these are merely "insignificant" withdrawals.)
For a while, it appeared that Gov. John Kasich, no great environmentalist himself, would sign this turkey into law. But in the end, he vetoed it, saying it didn't provide for "sufficient evaluation and monitoring" of water usage. Kasich, in fact, had come under heavy pressure not to sign it. Not just from every environmental group under the sun, but from sensible Republicans, including former Gov. Bob Taft. New York Gov. Andrew Cuomo flatly threatened to sue Ohio. So Kasich backed off ... for now.
Significantly, he didn't say the bill allowed too much water to be withdrawn. He praised it, and sent it back to the drawing board. The idea is to wait till the heat's off, modify it slightly and slip it through.
That cannot be allowed to happen, if we are to have a future. Anyone who cares about the future needs to be vigilant. Frankly, the federal government should intervene, though it probably won't.
The choice is pretty stark. Future generations can have a future. Or they can have a huckster politician with a bottling plant who can be allowed to steal from them — and us — so he can get as rich as he wants to.
What a country.
Farewell to Congress: Dale Kildee, the longtime congressman from Flint, is unlikely to have any monuments in Washington. He arrived in the Capitol in the last days of the Ford administration, when an IBM Selectric typewriter was a high-tech personal communication device. He's been there ever since.
When he arrived, he was in his mid-40s. He is now in his 80s. They put him on the Education and Labor committee when he arrived; he will be on it till the day he leaves. He wasn't the driving force on any major legislation, didn't even get to chair a committee.
Instead, he stood up for workers and children (he was a high school teacher before entering politics). He did the best he could for his people during what have been the worst years in their history.
Flint was a General Motors company town. Ninety percent of the GM blue-collar jobs that were there when Kildee arrived in Washington are gone. The effect on the city was devastating.
The congressmen did what he could, which wasn't very much. Nobody foresaw this when he got elected in the long-ago year of 1976, by going around and knocking on doors.
He won easily, and his campaign cost what he then thought was a lot of money — $48,595. You probably couldn't get elected dogcatcher for that today. Even Kildee, who has tried harder than most not to go nuts on spending, had to spend $1.2 million last year.
That was one of his closer races, though it wasn't really close. The voters have re-elected him 17 straight times, and Kildee could probably have stayed until he was senile or dropped dead.
That's what a lot of politicians do these days. Yet last week, this modest little man from Flint did the right thing. "Thirty-five years are enough," he said. He will retire at the end of next year.
My guess is that he will be succeeded by his nephew, Dan Kildee, though it's too early to say. Whoever does win will probably have to spend millions, for a two-year job that pays $174,000 a year.
There's something very wrong with that. By the way, in any other occupation, 83 would be seen as awfully old to finally retire.
But Michigan has three other congressmen in their 80s, two of whom are older than Kildee. They are mere shadows of their former selves, and show no sign of leaving. Isn't something also very wrong here?
Picking your fights: Every few days I get e-mail blasts or Facebook postings from those trying to recall the governor. Sometimes they are full of frustration; last week someone complained that people weren't showing up to circulate petitions.
Well, of course they are going to have trouble. For one thing, it is summer. For another, those in the know understand that collecting the estimated 1.1 million signatures is an almost impossible task.
Yet those who loathe the governor's policies are missing a major opportunity to really make an impact. The most unpopular of the governor's reforms is the new law giving Emergency Financial Managers enormous new powers.
Getting rid of that would be much easier. Legally, all you would need is the signatures of 161,304 registered voters to get a repeal on next year's ballot. Naturally, some are always disqualified, so you'd have to have extra, but 220,000 or so ought to get the job done.
That is an easily manageable goal. If that ever gets on the ballot, the governor's law is probably toast. A new EPIC-MRA poll done for the Gongwer News Service indicated people would toss it out by a 53 percent to 34 percent margin. Accomplishing that would also send a strong signal to the Legislature that the people are paying attention.
You don't hear much about this, because going after a law isn't quite as sexy as going after a governor. Politics is, however, the art of the possible. Rick Snyder knows that; his opponents should too.