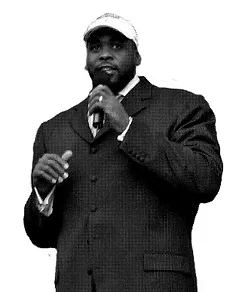 "Pray for my family," Carolyn Cheeks Kilpatrick told reporters upon leaving the federal courthouse last week after her son, former Detroit Mayor Kwame Kilpatrick, was found guilty on multiple counts of racketeering, extortion, mail fraud and tax evasion charges. His cohort, contractor Bobby Ferguson, was also found guilty of racketeering and extortion; and his father, former Wayne County Commissioner Bernard Kilpatrick, was also found guilty of tax evasion.
Later, when a reporter caught up with Cheeks outside her home, she repeated the invocation, saying, "Pray for us."
Reporters and others had gathered outside the courthouse as well as Cheeks' home (where Kwame may have spent his last free night) as if waiting to see whether the smoke would come out of the chimney to let them know whether a new pope had been chosen. By coincidence, a similar scene was taking place in Vatican City.
Except in Detroit, the onlookers weren't witnessing the ascendance of a religious leader. Rather, they were bearing witness to the conclusion of a long-running downfall; one where a hypocrite repeatedly employed diversionary tactics using a veneer of religion, in crisis after crisis, during his troubled career. The only kind of smoke involved here was the kind that comes with mirrors. The house of Kilpatrick, which once held political sway in the city of Detroit, Wayne County and Lansing — even in the nation's capitol — has finally crumbled.
Even the pope didn't have the chutzpah to say, as Kwame did after the city coughed up $6.5 million to settle a wrongful termination suit by Gary Brown and Harold Nelthrope, "I am God's guy."
According to the New Testament, as Jesus prayed in the Garden of Gethsemane, he said, "I am not worthy." Kwame, it seems, apparently never had a doubt about his own worth.
Indeed, if he had sincerely prayed instead of played, the former mayor might well be sitting in an office in Washington, D.C. Instead, he'll be spending a long time in federal prison.
As we all know, being on a mission from God condones all sorts of bad behavior. To borrow a line from influential journalist Andy Rooney, "Religion is the last refuge of a scoundrel."
Kilpatrick sought religion's safe harbor time and again throughout his troubled career, and seemed fond of saying he had been anointed by God to lead Detroit. In 2005, his re-election campaign foundered, and he trailed former deputy mayor Freman Hendrix in the polls. A turnaround in that campaign happened after images of him and his wife, Carlita, praying at civil rights icon Rosa Parks' riverfront apartment on the night of her death, were broadcast and circulated.
In 2008, when text messages proved that he had lied under oath in court about his affair with his chief of staff, Christine Beatty, his apology, after a week hidden from the public, was staged on camera from the Greater Emmanuel Institutional Church of God in Christ church. During that statement, he wrapped himself in piety, saying at one point: "I will dedicate my life to transforming Detroit into the city we all know it can become and that God intended for it to be."
Apparently, his interpretation of God's intention for Detroit was for the city to be fleeced by the self-styled hip-hop mayor while he lived large. But, as the curtain was pulled back on the Kilpatrick administration through those now-infamous text messages to Beatty, it seems that God was about the last thing on his mind during day-to-day business at city hall.
Even Ferguson jumped on the bandwagon after the verdict, ironically stating as he left the courthouse: "God is good." But the icing on the cake of self-serving piety was put there by Kwame's uncle, Raymond Cheeks. He told reporters outside the Cheeks home that, in the wake of his nephew's conviction, "The city of Detroit will now be destroyed."
He expanded on this line of thought by saying, "Read your Bible, Sodom and Gomorrah."
Really?
Was Kwame the last righteous man in Detroit? Is fire going to rain down and destroy what's left of the city that Kwame systematically destroyed through his corrupt administration? (In the process, he also destroyed not only his political career, but that of his mother too. Will Carlita soon be turned into a pillar of salt?)
After the verdicts were read, Kwame sat stone-faced, looking as if he couldn't believe he had been taken down once and for all.
There will be no comeback. Throughout his legal ordeals, he has projected the front of uncaring arrogance. He was cool and relaxed, as though his trials were some minor inconvenience that would easily be disposed of. Like a street gangsta, he acted like the rules of society couldn't touch him, and being sent to prison would be like a vacation up north with his boys in the state penitentiary.
Kwame is a lawyer, and lawyers never seem to want to give up. No matter how hopeless a case is, they always want to reach deeper, to pull a rabbit out of the hat. But, as he sat in court after his judgment, it seemed that he finally realized there were no more rabbits in the hat — and, no matter how far he reached, his hand would come out empty.
The usually effusive Kilpatrick had no comment for the press after his conviction. He may well still be "on assignment from God," as he once said. But, as he sat in court taking stock of his situation, he seemed without hope or a prayer.
We all know about the magazine lists that pop up from time to time painting Detroit as a terrible place. Among the most recent was a Forbes list that called Detroit America's most miserable city. In fact, the article seemed an indictment against the entire state of Michigan, with Flint coming in at No. 2 and Warren clocking in at No. 7 — not to mention our Ohio neighbor Toledo getting some misery attention too. With that in my sights, I figured that we'd be close to the top of a list of cities where the abusive police departments are costing citizens millions. However Chicago and New York came out one and two on that list. In fact, the Motor City didn't even show up on the list of seven. Maybe we're number eight. I don't know. It just seems refreshing that as we face nearly constant negative evaluations that we didn't come out on top of something negative.
Feed 'em: What's on Your Plate, Detroit Food 2013, will take place April 4-6 at Focus: HOPE. Hosted by the Detroit Food Policy Council, the event features dialogues on food and nutrition issues, sourcing food locally, the politics of food, and the future of Detroit's food. On Saturday, April 6, there will be a free celebration of Detroit food with cooking demonstrations, samples of local food, live music and the launch of Detroit Slow Food. Call 313-833-0396 or visit detroitfoodpolicycouncil.net for more information.
Larry Gabriel writes for Metro Times. Send comments to [email protected]