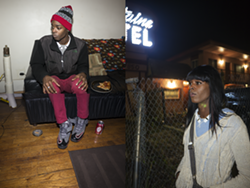 The Fair Michigan Justice Project, a local non-profit, announced Tuesday that it will begin working in Detroit to help Wayne County's prosecutor Kym Worthy and the Detroit Police Department investigate crimes against the city's lesbian, gay, bisexual, transgender and queer community.
With initial financial support coming from Bloomfield law firm Hertz Schram, Fair Michigan will fund an investigator and special prosecutor to work on 12 cases specifically affecting the LGBTQ community.
While last month's shooting spree at Pulse, a gay nightclub in Orlando, that left 49 people dead has reinvigorated conversations around hate crimes affecting LGBTQ people in America, the partnership with Fair Michigan has been in the works for quite some time.
"I noticed a national trend, ticking upward, of people being killed because of their sexual orientation," prosecutor Worthy said Tuesday during an announcement of the initiative, according to the
Detroit News
.
While this is true at large for the LGBTQ community, one group that has particularly felt the weight of this violence is the transgender and gender non-conforming community. In 2015 at least 24 transgender individuals were killed nationally, more than any other recorded year.
As we reported in our January cover story
The Throwaways
, which looked into the stigma and prejudices that keep many transgender women of color in a cycle of poverty and violence, Detroit specifically has become something of a flashpoint for violence against trans people.
Since 2011, seven trans or gender non-conforming individuals were murdered in the city; the violence hit its apex in 2015, when between the months of July and October three individuals were killed.
One of the first cases the Fair Michigan team will be taking on deals with the death of Amber Monroe, a transgender woman who was fatally shot last August while hanging out around Palmer Park, a 296-acre green space that runs along Woodward Avenue between Six Mile and Seven Mile, where many in Detroit's LGBTQ community congregate.
The organization plans to look into five other homicide cases and six non-fatal incidents.
News of the Fair Michigan initiative comes at a time when Detroiters are already engaging in dialogues around the city's treatment and acceptance of LGBTQ people. On Tuesday, the same day the partnership was announced,
a video was uploaded
to Twitter showing a man waving a gun and screaming gay slurs at a man walking out of a Detroit party store. The video serves as a very real reminder that despite America's strides towards equality, hurdles remain, especially when overcoming years of indoctrinated bigotry.
This reality is something the Fair Michigan initiative will also deal with, as investigating hate crimes is just one part of their work. A special prosecutor — former assistant prosecutor Jamie Horowitz — will also be on hand to help litigate — a task that requires skills when approaching a jury that may come with their own biases against the LGBTQ community, and specifically transgender people.
As we also detailed in
The Throwaways
, even when the murders of trans or gender non-conforming individuals are solved, finding justice can still be difficult.