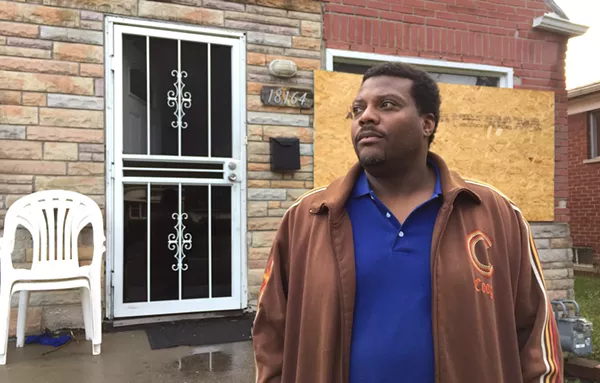 The most identifiable feature of the bungalow at the corner of Maine Street and East Grixdale Avenue is the large piece of plywood covering the window next to its front entrance. There's no need to knock upon arrival; your voice can carry up through a gap between the board and window frame, past a piece of plastic, and directly into the living room.
We arrive Tuesday night to find Kevin and Arnetia Dickerson sitting inside on their couch, processing a likely life-altering loss. Hours earlier, while Arnetia was still at work, their house sold in the Wayne County tax foreclosure auction for $8,500.

"I'm in disbelief," Arnetia says.
The house in Detroit's Conant Gardens neighborhood hadn't sold in the first round of the auction, when it was listed for $4,000, and the Dickersons were hopeful they could keep it with the $1,650 they'd set aside for Kevin's brother to bid on it. But as the bidding climbed well above what they'd budgeted, all hope was lost.
"Disgusted, upset, highly ticked-off," Arnetia says, grasping for adjectives to describe the feeling of being one step from homelessness.
"Everyone just wants a piece of Detroit now," she goes on, shaking her head. "I guess people want to get closer to downtown, so all these people coming from across Eight Mile and just pushing us little folks on out the way."
With their two teenaged kids tucked away in their nearby bedrooms, Kevin and Arnetia try to figure out what their next move will be. Kevin floats the idea that the person who bought the home won't want it when they discover it's not real brick.
He's less hopeful about the possibility that in fact brought us to his home that evening: Days earlier, with the final round of the auction underway, Kevin had received word that city officials would attempt to act on behalf of poverty-stricken homeowners by having their properties removed from the auction. Detroit's tax assessor's office confirmed this week that it had indeed embarked on an unprecedented 11th-hour effort, mailing out more than 500 property tax exemption applications to owner-occupied foreclosed homes that could be eligible for the program designed for low-income people or those who've faced a hardship. Officials indicated that if homeowners filled out the form and returned it immediately, there was a chance their home could be saved.
So, with just days to go until bidding would begin on the little faux-brick bungalow they call home, Kevin and Arnetia went scrambling, turning their house upside down in search of kids' report cards and utility bills per the advice of a housing non-profit, and applied for what would ultimately be their last hope to stave off displacement.
The thinking was that the city would ask the Wayne County treasurer to remove properties from the forfeiture list if their exemption applications were approved.
"In the past when we've had a reason to ask the county to do something like this, they have," Detroit assessor Alvin Horhn said in a Wednesday phone interview. "They're not unaware of what we're trying to do here."
But on Thursday, the final day of the auction — a juncture by which the Dickersons' and hundreds of other Detroit families' homes had already been sold — the chance of that happening was looking far more slim. A spokesperson with the Wayne County Treasurer's Office declined to comment on whether it was indeed cooperating with such a plan, leaving the Dickersons and other low-income homeowners in limbo.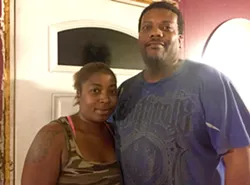 It is by only sheer will that the Dickersons have managed to hold onto their house this long. Built at the behest of Kevin's grandmother
in 1950,
at a time time when black home ownership was a rarity, the three-bedroom in Conant Gardens was first lost in 2004 to bank foreclosure, after Kevin's mother came to be the owner and fell upon hard times. In 2008, Kevin and Arnetia spotted a "for sale" sign in the window, and, wishing to raise their four kids in the home where Kevin grew up, bought it from a company on a land contract.
Four years of vacancy had taken its toll. Kevin and Arnetia say scrappers had stripped the doors, windows, appliances, plumbing, and electrical wires. They knew resurrecting the home would be a challenge, but little by little, they managed to restore it to livability, buying what they could from resale shops and getting handy family members to pitch in on labor.
Then around 2010, a knock at the door forced the couple to reckon with the volatility that underlies homeownership in post-recession Detroit. A woman showed up, deed in hand, and told Kevin and Arnetia that she was in fact the owner of the house they'd been piecing back together. To this day, they have no idea how the woman came to own the home, but property records show the company with which Kevin and Arnetia entered into a land contract, Thor Real Estate LLC, had deeded the home not to them, but to her. Arnetia and Kevin say they paid the woman a little more than $1,000 to again buy the house, and never looked back.

The Dickersons say the taxes on the home went unpaid through the duration of the land contract, and in 2013, they enrolled in their first payment plan with the Wayne County Treasurer's Office to pay off some of the debt. They put $1,000 dollars down and began paying $300 a month, but by the end of the year, they realized they'd only been paying the interest on what was owed. So, they let the home go into foreclosure and bought it back in the auction in 2014 with the tax bill mostly cleared.

Kevin and Arnetia were both unemployed by that point, and they filed for a property tax exemption to eliminate their tax bill, with the expectation that it would take effect the following year. For the next three tax seasons, Kevin says they did not receive a bill, and he was under the impression that the application had been approved. Then suddenly, at the end of 2016, the dreaded yellow baggy that signals foreclosure appeared on the Dickersons' door, and told them they owed about $7,000. If they didn't pay the back taxes or get on a new payment plan, their home would be seized and sold at auction.
Since then, the two have encountered numerous road blocks in their quest to keep their home. One payment plan required a down payment they couldn't afford. Another required the back taxes on their home to be paid by year-end, an impossibility.
"Every program we [looked] to, it was something. Like, you don't qualify for this program because both of you guys aren't employed," Kevin says. "There's so many programs out there [that are] supposed to help but there's so many stipulations that it can't help,"
That's why this time, it's no surprise that the Dickersons are dubious of the possibility that the city may indeed finally help them.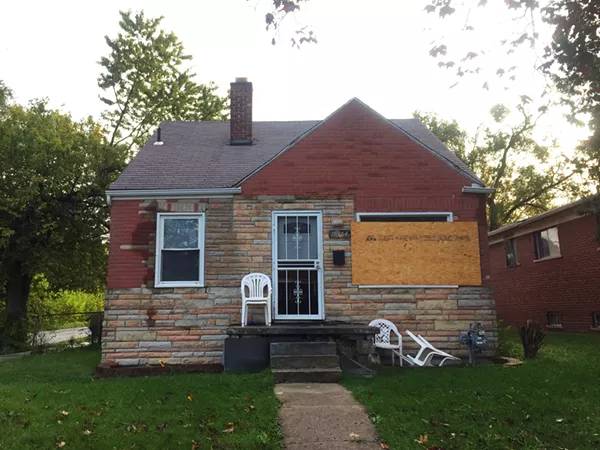 Theirs is a situation that's not unique. A second visit to the Dickersons' home on Maine Street, this time in daylight, reveals that it is not the only boarded one on the block. One by one, Kevin points out the structures that have fallen into disrepair through bouts of vacancy, providing supplementary anecdotes about the people who used to live inside.
It's a ground-level look at a staggering statistic: Between 2005 and 2015, 1 in 3 properties in Detroit were lost to foreclosure. Sure enough, when Kevin wraps up his count, he puts the number of foreclosed houses on his block Maine Street from East Grixdale to Nevada Avenue at ten — about a third of the houses on the block. Most of them, he says, were lost due to unpaid taxes.
This year, fewer tax-foreclosed homes were entered into the housing auction than in recent years, as a reduced-interest payment plan helped many people stave off displacement. As of mid-September, nearly 2,000 occupied Detroit homes were to be entered into the housing auction. About 800 of them were owner-occupied.
Despite the drop in the number of foreclosures, housing advocates still called for Wayne County Treasurer Eric Sabree to halt the sale of occupied homes at auction. They held multiple protests over the summer, including one right in front of Sabree's mansion on Pontchartrain Boulevard, in an effort to draw attention to the inflated tax assessments and the inaccessible poverty exemption they say have fueled Detroit's nearly decade-long tax foreclosure crisis.
The claims of anti-foreclosure activists echo the allegations of a federal lawsuit filed by the American Civil Liberties Union of Michigan and the NAACP Legal and Education Fund against the city and county treasurer last year.
While the city won't concede to the claims made by civil rights lawyers and activists, officials say efforts have been made to bring property tax assessments in line in recent years, with a three-year reassessment of all Detroit properties completed as of January.

Separately, Assessor Horhn says the poverty exemption has also been made more accessible through a streamlined application process and better advertisement of the program. He says most years, Detroit's Board of Review receives about 5,000 poverty or hardship exemption applications and approves more than 90 percent of them.
Still, the last-minute effort to get applications to foreclosed residents signals an understanding that everyone who is eligible for the program isn't taking advantage of it.
"We're doing our best because we know there's a population out there that's in need and we know there's a lot of people who, due to no fault of their own, have fallen into a circumstance where they're having problems paying their taxes," said
Horhn.
"We want to keep neighborhoods together and we want to keep people who own their houses in their houses."


But Horhn and the city's intervention have come too late for the homeowners whose properties were sold in the first round of bidding that ended in September. According to a spokesman with the Wayne County Treasurer's Office, the majority of buyers in that portion of the auction have already been issued deeds that he says cannot be rescinded.
With no direct comment from the treasurer regarding homes that were sold in the second round of the auction that ended Thursday, we're left to speculate on the fate of the Dickersons and hundreds of other Detroit families.
According to Michele Oberholtzer, coordinator of the tax foreclosure prevention project with United Community Housing Coalition, deeds are typically issued within a month of sale, which means Detroit's Board of Review will have to prioritize applications from homes that were in the auction. Horhn has said he believes it could take until December for the Board of Review to go through all of the exemption applications that came in following the city's mailing blitz.
The treasurer's office would not say whether it would hold off on issuing deeds to allow this process to unfold. So far, the city says it has sent the treasurer 20 addresses that were approved for the poverty or hardship exemption. As of Thursday night, it was unclear if even those homes would be spared.
"It's limbo," Arnetia said of the situation. "It feels horrible. You're sittin' there just waiting and anticipating whether this program gonna help or is it not."
Even if the Dickersons prevail in their last-minute effort, it would only amount to a reprieve. Poverty and hardship exemptions are not retroactive, meaning their $6,800 tax bill would need to be paid by next fall.
Still, they're hopeful that if they receive this lifeline, things will work out in the end. Kevin is waiting to hear back about an exterminator job, and Arnetia is almost at 90 days with the stamping company where she's been temping.
If they're granted the chance to save Kevin's childhood home one last time, the pair say they'll be looking forward to seeing out of their front window again. Broken by a combination of "the kid, the dog, and the bike," the boarded-up frame is evidence of a family whose future hangs in the balance. The Dickersons have held off on spending hundreds of dollars to fix the window in order to put the money toward saving their home.