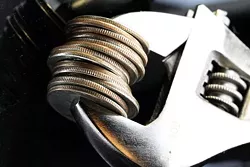 I wasn't in the auditorium last week when Gov. Rick Snyder announced he had definitely decided to step in, and he had chosen Kevyn Orr to be Detroit's emergency manager.
Instead, I was hundreds of miles away in Traverse City, having lunch with the one governor in modern times who really did care about Detroit: William Milliken.
Like Snyder, he too is a Republican. But one of a different kind. Back in the 1970s, Milliken stunned Detroiters and angered many in his own party by not only saying, but insisting that the state had an obligation to help its biggest city.
Detroit was running budget deficits then too — and if anything, the city was far less popular in Lansing than it is today, largely thanks to its mayor, Coleman A. Young.
Milliken didn't care about that — even though he, like Snyder, would soon face re-election, and helping Detroit might have turned off many of the voters he needed. The city was then bearing all the expenses of running the zoo, the public library system, and the Detroit Institute of Arts — even though they were also heavily used by the suburbs, and even the entire state.
Milliken agreed to support a multimillion-dollar Detroit equity package to help compensate the city.
Many of his fellow Republicans in the Legislature hated it. They started calling him the "ghetto governor." But it got passed, and it helped Detroit, for a while.
Coleman Young himself was amazed. "It was not politically expedient for Milliken to work closely with me, but he had enough integrity to screw the politics," he wrote years later.
"I've never had a more productive relationship with a public servant," he added in his autobiography.
Milliken kept on fighting for Detroit, and a funny thing happened. He got re-elected by a landslide. "If Detroit should fail, Michigan will be in such trouble that we will find it hard to recover," he told the Grand Rapids Press.
Told them that, back in 1981. Next week, the governor who cares turns 91. This has been a hard year for him; his beloved wife, the pioneering feminist Helen Milliken, died last November. But Milliken still follows what's happening.
"This is just sad," he told me quietly. He added that he wondered how much anger there was among Detroiters.
I told him what Sheila Cockrel told me, earlier this month on the day the governor came to Wayne State to announce that he had decided the city was, indeed, in a state of emergency.
That, while some Detroiters were indeed mad, there were a lot of people they could be mad at, from their own leaders to those who had used, denigrated and exploited the city for years. And the average citizen was more desperate than anything else.
They most want cops who come when they need them and street lights that come on. They want a working fire department and some minimum necessary level of public services.
Opposing a state takeover and an emergency manager is an article of faith on the left. The Rev. Ed Rowe, the revered pastor of Central United Methodist Church, calls putting in a manager a form of fascism, in so many words.
Last week's Metro Times featured a letter from a reader in Mount Clemens who called me a fascist for not roundly condemning the idea of an emergency manager.
Their argument is this: Having an emergency manager is fascism — or at least, anti-democracy — because it takes power away from elected officials, and therefore from the people.
There is however, a problem with that theory:
It is overlooks much of reality. Some of those making it are ignorant, and some are engaging in silly posturing bullshit.
First of all, Detroit is not a sovereign country. Cities are the creations of the state, according to our constitution. Michigan's Legislature has the power to charter new cities or dissolve old ones. They could legally split Detroit into five cities or merge it with Wayne County, not that either is likely.
Detroit, like every other city in the state, has a legal obligation to balance its budgets. It has a moral responsibility to provide safety and services for its residents.
Sadly, Detroit has failed to do any of that. So the state's top elected official — the governor — has appointed a financial manager to get the city's finances in order, as law provides.
While the state of emergency exists, the city's elected officials will have severely limited powers, it's true.
But the city's elected council can vote to oust the emergency manager in a year and a half, if they want to. Elections will go on as scheduled this year.
Those opposing an emergency manager complain that nobody in Detroit voted for him. Well, that may be true.
But here's something else they are overlooking. Damned few Detroiters voted for any of their "elected leaders." Know what the turnout was in the last citywide elections, the ones that elected Mayor Dave Bing and the entire city council?
Less than one registered voter in four — 22.7 percent. That means that anyone now in office was voted in with the support of fewer than one out of five adults registered to vote.
JoAnn Watson, who has been the strongest opponent of an emergency manager, got less than 10 percent of registered voters to actually show up and choose her.
Not a whole lot of enthusiasm there for politics as usual, comrades. The fact is that it is, as Milliken said, sad. Terribly sad that Detroit has to have an emergency manager.
But as those old authentic radicals used to say, Detroit has to be saved, by any means necessary. This is what has to happen now so the city can clean up the mess and start fresh.
Thirty-six years ago, Governor Milliken persuaded the National Governors' Conference to meet in Detroit — something many of them weren't exactly hot to do. When he got them there, he laid it on the line in his welcoming address.
"Cities have always been the center of civilization as we have known it. We are now at the point where we will determine whether our cities become monuments — or death mounds — of our civilization. If we can't solve our urban problems, we can't solve the problems of America," he told them.
That's as true now as it was then. The cities of the future, including Detroit, will look and feel different than they did.
The way we might have solved those problems in 1977 won't, and probably shouldn't be the way we should do it now. But it has to be done, and working together is essential.
So let's get this done. Let's start saving Detroit.
How to reason with Republicans: U.S. Sen. Rob Portman, a GOP freshman from Ohio, has held the same dreary hard-right positions on social issues as most of his party. Until last week, when he stunned his fellow conservatives by declaring that gay marriage was a good idea.
What happened? Simple: His beloved only son Will told the family he was gay. Incidentally, know why health insurance in Michigan is now required to cover autism? Because Lt. Gov. Brian Calley's daughter is autistic, that's why.
This is important intelligence, comrades. The solution to whatever social ills you want to cure is obviously not demonstrating and campaigning and signing petitions.
Instead, find a Republican whose family is afflicted by whatever you care about, and elect them to high office.
That's how the system really works. I suggest you start by compiling a registry of GOP hopefuls with personal issues.
And feel free to thank me later.
Jack Lessenberry opines weekly for Metro Times. Send comments to [email protected]