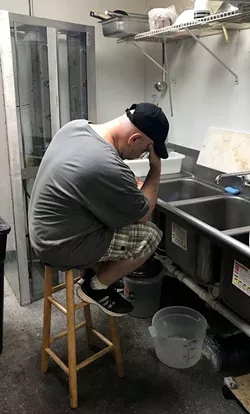 Ghandi Shaba is a 40-year-old Chaldean day-laborer who is in hiding and lives hand-to-mouth in the greater-Detroit area, barely earning enough to pay for his meager room. He lives alone, struggling daily as a frightened Catholic caught in the government's net cast to deport more than 1,400 potential Iraqi nationals.

He's here legally. His family arrived in October 1982 after waiting to correctly enter America through European stopgaps. Having left Iraq when he was 3, they were granted refugee asylum due to Iraq's persecution of Christians.
"I only know American life; I have always identified as American," says Shaba, who finally landed on U.S. soil at the age of 5, greeted by his grandmother who legally preceded him here. "I don't remember Iraq and never studied Arabic. All my family is here, and all but one of my family are U.S. citizens. I don't know how I would survive in Iraq — I couldn't even communicate there — and even if I did, it wouldn't be for long. I would be killed. Christians are a minority there."
With less than one month left to determine who will be deported, those targeted are scrambling to prepare their cases for court review. That legal hiatus was instituted in June by Detroit's U.S. District Judge Mark Goldsmith, who provided a 90-day extension from immediate arrest and deportation by I.C.E., the Immigration and Customs Enforcement division of Homeland Security.
According to Migration Policy Institute, from October 2016 through April 2017, 42,414 refugees were admitted to the U.S., nearing the recently reformed ceiling of 50,000. President Donald Trump's Executive Order 13780, "Protecting the nation from foreign terrorist entry into the United States," reduces the original permissions for 110,000, and suspends refugee resettlement for 120 days to enhance vetting. It also enjoins state and local jurisdictions in that process, although the order's contents have all been challenged in court.
However, few Americans seem to understand that deporting the more than 1,400 Iraqis is not centered on them being Muslim, terrorists, or here illegally. In fact, it also targets Christians who entered legally — people who have been our neighbors for decades. Many own businesses, are well-established in communities, and were raised speaking only English and Aramaic, the Chaldean dialect.
They are people whose otherwise normal worlds have been turned upside down by ghosts from their pasts.
"Each defendant must ask that his case be re-opened and considered, and some of these potential deportees have minor crimes on their records," says legal consultant Rima Blanco, who is representing Shaba and others. "But, they were granted refugee asylum here due to torture in Iraq, a circumstance that has been ongoing for decades. To endanger them by reversing that situation is unconscionable."
Ghandi Shaba was also a normal American kid. At the age of 15, he rebelled. He smoked pot. He ended up in the legal system, including an incident involving possession of stolen cell phones. Consequently, he served time in a boot camp and county jail. He missed graduation with his class from Hazel Park High School, and generally fared worse than the American teens with whom he chummed.
In the process of making such mistakes, it cost Shaba his green card and a chance at citizenship. However, the judge who oversaw his case reassured him: "You don't need to worry about not having a card; you will be buried in American soil."
But today, he justifiably fears being buried — first by the U.S. legal system, and then by Muslim Iraqis. Losing that card put a target on him, both here and in Iraq, where Blanco says Christians only emerge to grocery shop, donning Muslim outerwear to do so. People there are also required to wear I.D. containing their name and religion as well as the names and religion of their parents and grandparents.
That, Shaba says, could cost him his life.
"We live in fear for Ghandi," says his sister, Ghiyda Salman. "Yes, he was guilty of bad judgment as a young teen and he hung with the wrong crowd. But every day now he's scared about what will happen and when. He spends much of his time praying."
U.S. laws protecting legal immigrants and their children have been in flux, particularly in the past two decades. The Child Citizenship Act of 2000 might have played a key role in securing Shaba's citizenship, but its timing was off. Signed into law by then-President Bill Clinton, H.R. 2883 amended the Immigration and Nationality Act (INA) permitting foreign-born children (including adoptees) to automatically acquire citizenship after meeting certain requirements.
Scurrying to help as many Chaldeans as possible by their deadlines, Blanco says the status of potential deportees remains unknown. "Each will be judged on a case-by-case basis," he says.
But Shaba says he would do anything to be able to stay here.
"I feel as if I have paid my dues through the years. My mistakes cost me everything; I didn't finish my education or become a citizen, and my work history has included sporadic jobs, causing my credit history to be bad. But, I have tried to make up for my errors and become the best citizen ever," he says. "And, if America wants me to serve in the Army, I would go to war to defend this country. I just want to stay here. To live, I need to stay here. I will do whatever is asked of me to do that."