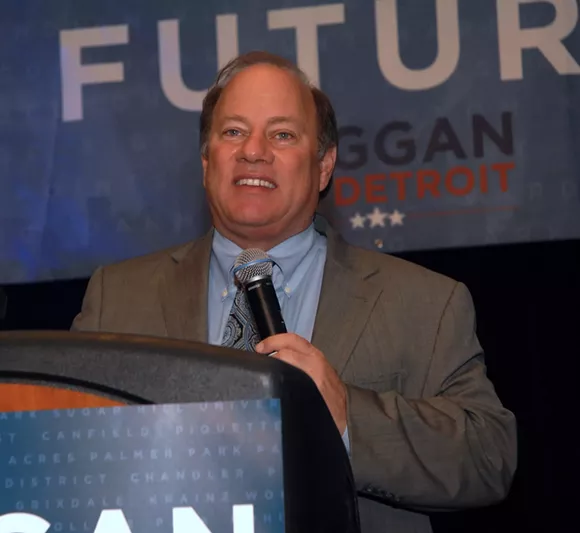 A nonprofit headed by a former appointee of Detroit Mayor Mike Duggan is funding the opposition to Proposal A, a city ordinance going before voters next month that would require developers who receive tax breaks from Detroit to provide guarantees — jobs, housing, and more — for the community.
The organization, called Detroit Jobs First, is classified as a 501(c)(4) "social welfare" nonprofit, and it isn't legally obligated to disclose its donors — making it a
so-called "dark money" fund
. The way it's organized is similar to Michigan Gov. Rick Snyder's
controversial NERD Fund
, which drew heavy criticism because it covered expenses for former Detroit Emergency Manager Kevyn Orr.
This week, anti-Prop A ads funded by Detroit Jobs First began airing on broadcast television stations in Detroit, claiming the proposed ordinance would drive jobs out of the city.
The proposed ordinance would require developers of projects that cost $15 million or more, and seek public subsidies worth at least $300,000, to sign a legally-binding community benefits agreement, which could stipulate job requirements, new housing, or other economic opportunities. If a developer failed to uphold an agreement, the impacted host community could file a lawsuit to enforce the terms.
The ads coincided with a press conference on Tuesday
held by prop A opponents
at the site of the new Detroit Red Wings arena in downtown Detroit, one of the projects that spurred the drive two years ago by community benefits agreement supporters to enact an ordinance.
"Proposal A is awful,"
said Mike Jackson
, executive secretary and treasurer of the Michigan Regional Council of Carpenters and Millwrights, at the press conference.
While opponents — mainly unions and business owners — have been vocal about their stance on Prop A, finding out who's funding Detroit Jobs First and the group's TV ads is a mystery.
State records show Detroit Jobs First was incorporated Sept. 8 "to operate exclusively for the promotion of civic action and social welfare by promoting the common good and general welfare of the residents, and visitors to the State of Michigan."
"[Detroit Jobs First] is to be financed ... [through] gifts, grants and contributions of funds and property, and the income generated therefrom," according to the group's articles of incorporation.
Records show the group was incorporated by W. Alan Wilk, a Lansing-based attorney with Dykema Gossett, who previously worked as the NERD Fund's legal and compliance officer.
Reached by phone on Wednesday, Wilk declined to comment.
"I'm not authorized to speak to the press about this entity," Wilk told
Metro Times
.
Records filed with the Federal Communications Commission show the group's board of directors is comprised of three individuals:
Rev. James Holley, president of the board and former civic liaison for Mayor Duggan;
Mike Allen, vice president of the board and business manager for Laborers' International Union of North America Local 1191; and
Lisa Canada, the board's secretary who is the political and legislative director for the Michigan Regional Council of Carpenters & Millwrights.

Messages were left for Allen and Canada seeking comment.
Holley's
bio
says he has overseen several businesses and developments, including as president and CEO of
Cognos Advertising Agency
, previously the only full service ad agency in the city. He also hosts a local TV talk show called "Hello Detroit,"
according to his LinkedIn page
, and ran a food distributor called Country Preacher Foods.
When asked who's fundraising or funding Detroit Jobs First, Holley directed questions to a spokesperson for the nonprofit, and said they'll "tell you that."
The spokeswoman, Sharon Banks, said the "funding and the filing is being done as we speak, and our attorneys are taking care of … all the financials, and that's something that will be forthcoming."
It's unclear when the filings will be made available. Banks said the paperwork will be filed with the Internal Revenue Service. Federal law requires nonprofits to submit their filings to the IRS five months after their fiscal year has lapsed — and as much
as a six-month extension
for the deadline can be provided.
Asked who's funding Detroit Jobs First, Banks didn't answer and said the "filings and requirements for that 501(c)(4) is what's being handled as we speak."
She went on, "What the law requires is what we will do."
The
website for Detroit Jobs First
said it's being "paid for with regulated funds."
The Michigan Attorney General's office regulates nonprofits in the state, but a spokesperson said on Wednesday that typically only those with a designated 501(c)(3) status register with the office.
The website for Detroit Jobs First also doesn't provide any clues to who's funding the anti-Prop A campaign. The website's domain —
www.detroitjobsfirst.com
— was registered through a company called Domains By Proxy, which keeps contact details private. The
tagline for the company is
: "Your identity is nobody's business but ours."
The Detroit Jobs First website was created Aug. 25, according to a WHOIS database, a directory for details on domains.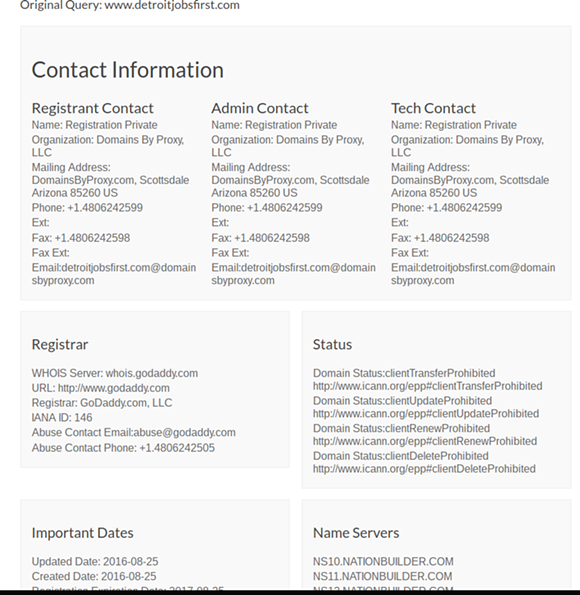 When Prop A was before Detroit's city council, Mayor Duggan raised concerns about the ordinance and said it would hurt efforts to attract more economic development in the city. After the ordinance failed to come up for a vote, a citizen-led group
gathered enough signatures
to have the initiative placed on the ballot in the November election. A dueling measure — Proposal B — will also be on the ballot.
A spokesman for Duggan said the administration "can't take sides publicly" on Proposal A because it's a ballot initiative. The mayor said last month he would
"probably" vote
for Proposal B, but he's not formally endorsing either.
"No, there's nothing that administration is doing in support of [the Detroit Jobs First] effort," said the mayor's spokesman, John Roach. "As far as who may be engaging in anything off the clock … that's all political stuff and we don't really deal with that in here." Roach deferred additional questions to Banks.
The emergence this week of Detroit Jobs First as the opposition group to Prop A came on the heels of a report by
The Detroit News
that reinvigorated the debate over whether Detroit should codify a community benefits agreement ordinance.
The
News
reported that contractors hired to construct a new arena for the Detroit Red Wings in downtown Detroit had been
fined an estimated $500,000
for not hiring enough Detroit residents. A city ordinance requires projects of the arena's magnitude to have 51% of the workforce comprised of Detroit residents, but the city historically has
failed to enforce it
. The fines will be deposited into a city workforce training fund, officials said.
Contractors who spoke to the newspaper said the fines were expected due to a lack of skilled-trade workers in the city. But boosters of Prop A said the failure to meet the 51 percent threshold showed a community benefits agreement ordinance is needed.
"Right now, that development agreement did not work," former state Rep. Rashida Tlaib told the
News
. "Enough is enough. I think a lot of us in the city of Detroit are tired of people in the corporate welfare line."
The owners of the Red Wings, Little Caesars founders Mike and Marian Ilitch, finalized a deal in 2014 with state and local officials to receive
over $280 million in public money
to fund the construction of the arena and ancillary development.
In an email, Tlaib told
Metro Times
that Proposal A is "truly a grassroots initiative, and it's a shame to see dark money and special interests flood the mailboxes and TV waves of Detroiters with inaccurate information about community benefits.
"Although we may never know who's truly behind Detroit Jobs First and the lies they are putting out, we know that these special interests and outsiders are only for the status quo," she said. "We Detroiters deserve a say if large developers receive our tax dollars."
Craig Mauger, executive director of the Michigan Campaign Finance Network, a nonpartisan outfit that examines the role of money in state politics, said Michigan has countless examples of nonprofits being used to shield the identities of political donors.
"It's unfortunately become a Michigan tradition," Mauger told
Metro Times
. "In the case of ballot measures, these are groups that are directly trying to put their thumbs on the scale for specific policies. If the public can't determine the original source of the money backing or opposing these measures, it significantly clouds the public's ability to follow the money and to judge the measures themselves."
Separately, voters inundated with anti-Prop A materials will have to decide whether to approve a competing community benefits ordinance, Proposal B, which was sponsored by City Councilman Scott Benson.
Benson's proposal would require developers with a project that costs $75 million more, and who seek subsidies of more than $1 million, to enact a community benefits agreement.
Proposal B would establish neighborhood advisory councils for affected areas by developments that meet the financial thresholds. But the developers
wouldn't be required to enact a legally-binding agreement with the advisory council
, whereas residents could pursue legal action on their own under Proposal A.
If either proposals receive more than 50 percent of voter support, whichever has the most votes will go into effect. Detroit would be the first city in the U.S. to enact a community benefits agreement ordinance.