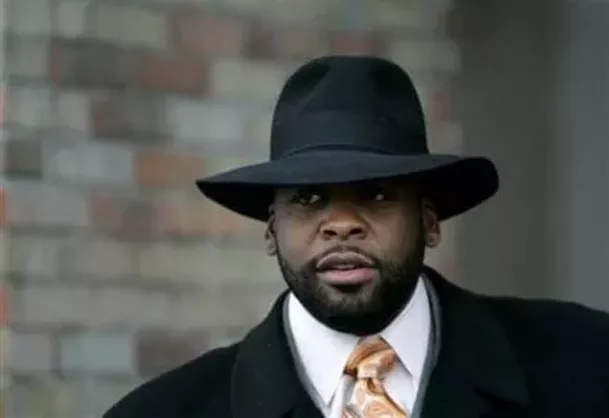 This is how it begins, folks.
Last Friday, the
Detroit Free Press
mused that Donald Trump might want to pardon Kwame Kilpatrick as a fuck you to the Justice Department, former president Obama, and people in general.
Yesterday, Kilpatrick — in the midst of a 28-year prison sentence for racketeering and other crimes — asked for that pardon.
Kilpatrick made the public plea on his "official" Facebook page and a new website to which local media outlets,
including this one
, have devoted a good deal of coverage. The Free Kwame Project is essentially a Kwame truther site aimed to improve perceptions of the ex-mayor, raise money for his legal defense, and give an outlet to his Jesus-laced ramblings.
In a
blog posted to the site last night
, Kwame says he's been transformed by the time he's spent behind bars and that he's "Ready For the Second-Half.. It's Time."
"Our country has always been the land of 2nd Chances!" Kwame writes. "I am hoping, confidently expecting, that I will have the opportunity to boldly move into the next season of my life; outside of these prison walls.
"By God's grace, I have received a pardon from Him, through Christ Jesus. I pray that I will receive the opportunity for Pardon/Clemency from the President of the United States as well."
According to the
Free Press
, Kilpatrick has also filed a formal request with the Justice Department to have his sentenced commuted. A commutation would shorten the length of Kilpatrick's sentence rather than wipe his conviction.
The request isn't all that far-fetched. Trump has pardoned the likes of former Maricopa County sheriff Joe Arpiao, conservative author Dinesh D'Souza, and a grandma whose cause was championed by Kim Kardashian. Recently, he has said he's considering pardons for Martha Stewart and former Illinois Gov. Rod Blagojevich.
Stay on top of Detroit news and views. Sign up for our weekly issue newsletter delivered each Wednesday.