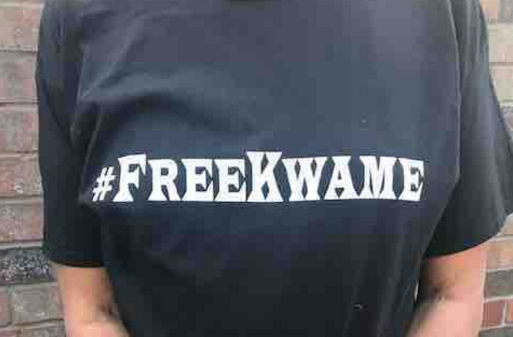 A
Kwame Kilpatrick truther website
has been created in an apparent effort to dispel negative perceptions about Detroit's ex-mayor and raise money to help get him out of prison.
"Contrary to widespread rumors, speculations, and innuendos, Kilpatrick' s case has nothing to do with any 'missing' or 'stolen' money, nor the bankruptcy of the city of Detroit," the site says. "Kilpatrick had no indictment counts nor convictions for embezzlement or misuse of public funds. Kilpatrick was elected mayor of Detroit at 31 years old and made some mistakes, but none of them warranted a 28-year sentence."
In addition to laying out arguments as to why Kilpatrick was "over-charged and over-sentenced," the site also aims to humanize Kilpatrick (He's a father. A son. A brother. A friend) and raise money for a legal defense fund partly through the sale of $20 "#FreeKwame" shirts.
The site also features inspirational blog posts that appear to be by the ex-mayor himself. In
one post,
published in early April, Kilpatrick says he doesn't "give a rip about what anyone thinks anymore."
"I have received in my spirit that God loves KMK. He has my picture in his wallet, and my 8×10 on his mantle. I'm good! ☺

"My problem was not a physical prison. Like so many others, I only had to emancipate myself from the mental slavery, bondage, confinement that I accepted in my soul from 'people'. Since I have been set free from that ridiculous self-inflicted incarceration…Now, I only have to deal with this evil, corrupt, unjust, nonsense that was done in Detroit."

It's not clear who's behind the website, though there's a Washington, D.C. mailing address listed. We messaged the email address listed but received no response.
Kilpatrick owes a lot of money to multiple government entities. He's been ordered to pay $850,000 in restitution to the city of Detroit and $1.5 million to the city's water department. He owes the IRS about $200,000.
The federal government has said Kilpatrick also owes more than $550,000 for accepting gifts from a businessman seeking favors.
Stay on top of Detroit news and views. Sign up for our weekly issue newsletter delivered each Wednesday.