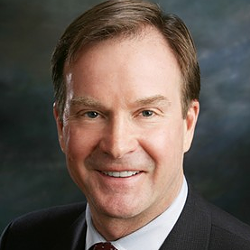 Well, now we finally know just how far Donald Trump has to go to get people who once endorsed him to disagree. It wasn't outright sexism, or a Muslim ban, or even outrageous tweeting to get Michigan Attorney General Bill Schuette to disagree with Trump. No, it was our Great Lakes and Trump's plan to defund them to finally break Schuette's back.
While
talking to reporters
in Muskegon, Schuette said, "those funds are really important because this is an ecological responsibility, an economical responsibility, too."
The Attorney General, who may be planning a run for Governor, endorsed Trump during the general election, and has agreed with a lot of Trump's policies. Back in January, Schuette came out in support of Trump's first ban of refugees of seven majority-Muslim countries from entering the United States.
Trump's cuts to the Great Lakes would eliminate the GLRI, which is funded $300 million a year to protect the Great Lakes.