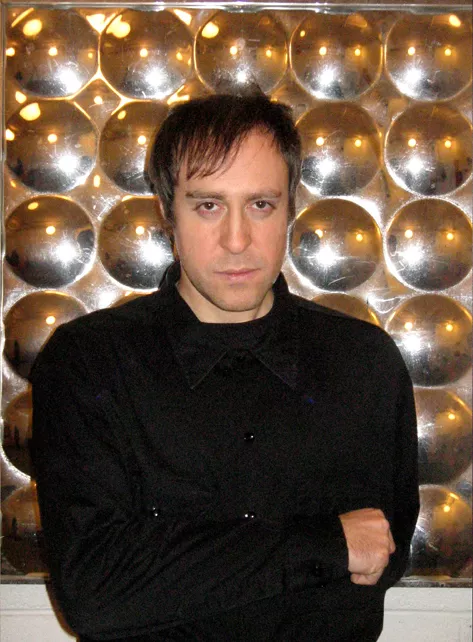 WHEN METRO TIMES moved its annual Blowout music festival from its longtime slot in Hamtramck in early March to Hamtramck and Ferndale a few weeks later in the year, the outcry was immediate. It was as if we were messing with a classic formula: Despite the fact that it almost always snowed every year, fans gladly turned up to celebrate Detroit music. Even though this year promises to be the biggest Blowout ever, with more than 300 bands playing across Hamtramck, Ferndale and Detroit in late April and early May, musicians decided Hamtramck still needed its own music fest, and thus the Hamtramck Music Festival was born. Held in Blowout's former slot in early March, the fest promises the same caliber of local bands that gave Blowout its life force. At the helm of the fest is scene fixture Eugene Strobe, who is playing the fest with his own band, Cosmic Light Shapes.
Metro Times: How did you get involved with the Hamtramck Music Festival?
Eugene Strobe: A lot of bars in Hamtramck have been talking about extending Paczki Day and turning it into "Paczki Week." So there've been murmurs of having a festival revolving around that for a while. Just from talking about it with people in person and on social media, it just seemed like a lot of people wanted to do something like this. I'm kind of the type that, rather than talking about something, I'd rather just do it. That's pretty much how I got involved.
MT: What paczki-related activities will there be?
Strobe: Well, leftover paczki! [laughs] We want to piggyback off the paczki festivities. There's a Paczki Run that happens in downtown Hamtramck on Saturday, March 1 — we'll be selling wristbands at that event. On Pazcki Day we'll be officially selling wristbands at Small's, one of the multiple locations that are selling wristbands in general. And then on March 5, we're doing another wristband-selling party at the New Dodge, and the kickoff party is on Thursday at Small's. So that's almost a week of festivities.
MT: We love the tagline, "All Tomorrow's Paczki."
Strobe: That came out of the initial planning meeting. What should we call it? We want to keep it simple and call it "Hamtramck Music Festival" each year that it happens, but each year's going to have a slogan. So that's our slogan for this year, in honor of paczki and the Velvet Underground.
MT: Blowout didn't die; it just got moved to later in the year, and it will still be held Hamtramck in addition to Detroit and Ferndale. So why does Hamtramck need its own music festival in early March?
Strobe: There's a large history of having a music festival in the first week or second week of March. I think when it wasn't there anymore, there was this void that was felt. It was kind of a good way to bust out of the winter doldrums and look forward to spring. Historically, that was the festival that happened before bands went off to SXSW — it was kind of a primer for those bands to get in the mood of playing a festival show and drive down to SXSW and do that type of a thing. It was a kickoff for the festival season in Detroit.
MT: It has also coincided with Wayne State's spring break.
Strobe: The reason why [Blowout] started in Hamtramck was because there's a huge concentration of bars and clubs that had shows, and there's a huge concentration of musicians and artists that hung out in Hamtramck or lived in Hamtramck. The festival grew from that. Yeah, it was planned to do it in March to coincide with spring break. It just so happens that this year, Wayne State's [spring break] happens that weekend as well. So it's like the kickoff spring break for Wayne State students that may not necessarily go away to a sunny vacation spot. They're stuck home, at least they'll be stuck home with an awesome music festival.
MT: We notice you guys are not branding yourselves as the "Fuck Metro Times Hamtramck Music Festival." Thanks!
Strobe: We aren't "anti" anything. We just want to have a great festival, and people are passionate about it. Everyone's going to have their separate opinions about everything. It's nothing against any other festival, it's nothing against Metro Times or anything like that. It's just something we want to do and enough people wanted to do. People love hanging out in Hamtramck. There are Hamtramck die-hards, whether you live there or don't live there, and it seems like Hamtramck has to have this festival. It's almost like it has to happen. We're not there to spite anybody. A lot of us agree that Detroit is a great music town, and we just wanted to be a part of that. That's just the bottom line in terms of where the festival committee comes from.
MT: Who's the festival committee made up of?
Strobe: It happened very organically. The whole genesis of it was once enough people were discussing doing something, we just threw out a meeting date and place. We decided to just meet on Jan. 28 at Kelly's Bar and discuss the possibility of this happening. Everyone who showed up was, in essence, the first committee. If you attended, you're on a committee! [laughs] We decided that any venue that had a booker, we'll just book their venue. And any venue that didn't have a booker, we'd just adopt that venue and have someone volunteer to be their booker. It's very grassroots in that regard.
MT: Hamtramck is no stranger to hosting a music festival like this, but were there any challenges in organizing it?
Strobe: It's challenging enough in just organizing people and making sure you're on the same page with information you have and resources you have. We have a basic kind of organizational construct where you get people together, we have a common goal, and we want to make sure all the business ends are tied up and making sure our schedules coincide. The Detroit Bus Company is helping out with transportation, and we're excited that they're a part of it. We want to make sure it's clean and safe — we have parking lots marked on our map so people know where to park, we have shuttle stops marked on our map so people know where shuttles are going to be. There's a neighborhood patrol that we're utilizing so we have eyes on the street. Any kind of undertaking like this has its little challenges, but shows happen every weekend in Hamtramck. We're just taking that and multiplying it.
MT: What can you say about the lineup that you guys booked?
Strobe: There's an amazing lineup of local talent. We have one band from Chicago that was supposed to play at Cliff Bell's but something happened with Cliff Bell's, so we just kind of gobbled them up. And Melvin Davis is having a 45 record release party at Paycheck's that we're excited about.
MT: What can you tell us about Ben's Encore?
Strobe: Ben's Encore is a nonprofit that we're working with. They're a great organization that provides opportunities for youth that are interested in music and art. The name is taken from Ben [Barowiak], who passed away a few years back, and this foundation was set up in his honor. They've been a great organization and they've been really helpful in providing services and advice. That's why they're our umbrella sponsor for the event.
MT: Your price is pretty good: $10 for two nights, Friday and Saturday.
Strobe: Actually, the festival has a kickoff party at Small's on Thursday, which is the opening party of it. And that's a free event, and you can buy a wristband there, so it's pretty much three nights of music for $10. It's all-access, so you can get into any show with the wristband. We wanted to keep it affordable. I have friends who complain about beer that is over $3, and I have friends who are willing to pay $12 for a seasonal pint of beer from who knows where. We wanted to make it appealing to anyone who wants to come down to the festival.
MT: We know it's perhaps too soon to say this, but are you thinking of doing it again next year?
Strobe: Oh, yeah. This is definitely the first annual. It will happen every year. As long as there's a planet Earth, this festival's going to happen.
The Hamtramck Music Festival is held March 6-8. See hamtramckmusicfestival.com for more information.