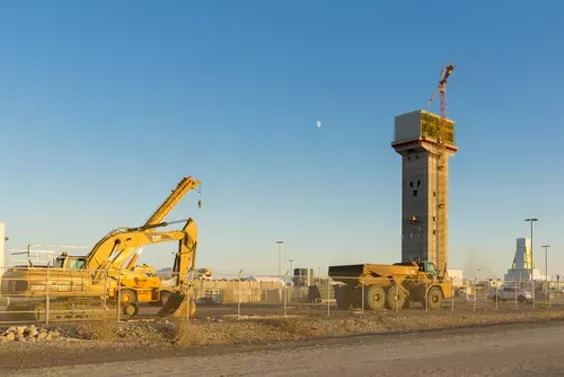 With the national Environmental Protection Agency being gutted under President Trump and the state's Department of Environmental Quality,
not exactly a fierce watchdog to begin with
, under assault
from Michigan's right-wingers
, it seems like we're receiving action alerts from Michigan environmentalists with increasing frequency. We're urged to
call our state legislators about Senate Bills 652 and 653
. We're told to
demand Wayne County officials do something about plans to treat dioxins in Van Buren Township
.
This month, the alert concerns a plan to build an "infeasible" mine in close proximity to a major aquifer. You may drink the water yourself, because the water in the area is already the source of some controversy. Up around Evart, in Osceola County, Nestlé has been seeking approval to suck 400 gallons a minute out of the ground, mostly to be bottled as part of its Ice Mountain brand. In fact, Nestlé has pumped billions of gallons of water out of the ground in Michigan over the last 20 years, and paid the state perhaps a few thousand dollars in fees for the privilege.
Now come plans for a company called Michigan Potash to dig a mine in the area. Doug Miller, a resident in the area contacted us in an alarmed tone that has become the cadence of the beleaguered Michigan environmental movement. Here's the issue summed up in a video you ought to see.
"Michigan's Dept. of Environmental Quality (DEQ) is fast-tracking a monumental water-grab and contamination nightmare in a pristine rural area of the Lower Peninsula," he says. "Colorado-based Michigan Potash Company plans a solution-mine near Evart. Michigan's DEQ has abetted this effort by keeping secret all information about the project for the past 10 months. Now, after releasing a small fraction of that information, they are giving the public only seven days to evaluate and comment. DEQ plans to approve the project by the end of March."
Miller adds, "Michigan Potash obsessively avoids public scrutiny, but you can help rip away this veil of secrecy by visiting the following sites and encouraging others to do likewise."
Miller recommends you take a look at
the reporting on the issue of MLive's talented environmental journalist Garret Ellison
and a
factsheet from Michigan Citizens for Water Conservation
, and then, to fire up your computer or sharpen your pencil and email or post your comments before the end of Monday, March 19, 2018, to:
[email protected]
Michigan Department of Environmental Quality Oil, Gas, and Minerals Division RE: Comments Michigan Potash Applications
PO Box 30256
Lansing, MI 48909
Stay on top of Detroit news and views. Sign up for our weekly issue newsletter delivered each Wednesday.