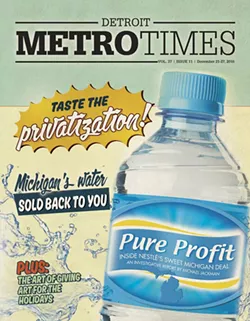 As we mentioned earlier this month
,
Michigan Citizens for Water Conservation
— one of the key groups opposing
Nestlé's plans to pump more water out of Michigan for its bottling operations
— want to ensure that the state's Department of Environmental Quality holds hearings on the matter all over the state.
The group says that, as of now, the DEQ only intends to conduct one public hearing on the Nestlé Permit — in the city of Big Rapids.
At 2 p.m. yesterday, the group held a press conference in front of Nestlé's Ice Mountain bottling plant in Stanwood. Speaking to media, and supported by residents of Evart, Newaygo, and Stanwood, the group demanded no fewer than six public hearings on Nestlé's pending permit to withdraw 210 million gallons of water per year from its well in Osceola Township.
Peggy Case, board president of Michigan Citizens for Water Conservation, made this statement:
We believe that the Nestlé increase is not a local issue, but it a state of Michigan Issue, and also pertains to the amount of water in the Great Lakes Basin. Please remember that there are no limits on the amount of water being taken from groundwater or spring water that feeds into creeks, which feeds into rivers to our Great Lakes.
Michigan Citizens for Water Conservation believes there is a serious disconnect in Michigan's water policies that requires attention before increases or new water taking permits are granted.
The application before the DEQ will permit the Nestlé Corporation to take 400 gallons a minute from this one well, every minute of every hour of every day. That is approximately 210 million gallons a year. If granted this permit will cost the Nestlé Corporation a $200 fee, or less than a one dollar per million gallons of fresh water. …
Michigan Citizens for Water Conservation is specifically requesting that the DEQ hold public hearings in more than one location. We are asking that Public Hearings be held in Evart, Detroit, Flint, Muskegon, Sault St. Marie, and Traverse City.
Case said that hearings in Evart were a must, given that the environs of the mid-Michigan city have already seen so much water taken. Muskegon hearings are needed because the well is located in the Muskegon River's watershed, and "water policies that reduce river flows concentrate contaminants," decreasing the vitality of the Muskegon River. Traverse City was named as a site for hearings due to its prominence and its special relationship with Lake Michigan, into which the Muskegon River flows. A hearing in Sault Saint Marie would offer Sooties and others in the Upper Peninsula a chance to sound off on their concerns for their tremendous water resources.
But among the demanded hearings, no two locations seem more relevant than Detroit and Flint. Case said:
Thousands of Detroit residents have been cut off from their household water supply for non-payment of water bills which are usually for less than 60 thousand gallons per year
The residents of Flint on average pay $910 a year for contaminated water that is not safe to drink. This is the most expensive water for households in the United States.
Case noted that "the Nestlé Corporation has already taken more than 4 billion gallons of water from the Evart area."
To help you visualize this amount of water, imagine those 16.9-ounce containers you see in coolers at stores and gas stations. If you were to stack bottle upon bottle, 4 billion gallons' worth would reach all the way to the moon – and back – seven and a half times. Laid down on their sides bottom to cap, it would wrap around the earth more than 150 times.
Would you like to have hearings in Detroit? In Flint? Would you like hearings in your hometown, where you can sound off on why you pay high rates for water while hundreds of millions of gallons of groundwater you own in common with other Michiganders is essentially privatized for profit?
If so, the group invites you to get in touch with the director of the state's DEQ and Gov. Snyder to demand hearings on the Nestle Corporation's application to increase their water taking at the White Pine Springs Well 101 in Evart. MDEQ director Heidi Grether can be reached at
[email protected]
, and Gov. Snyder can be reached at
[email protected]
.
To learn more, see
Michigan Citizens for Water Conservation
.