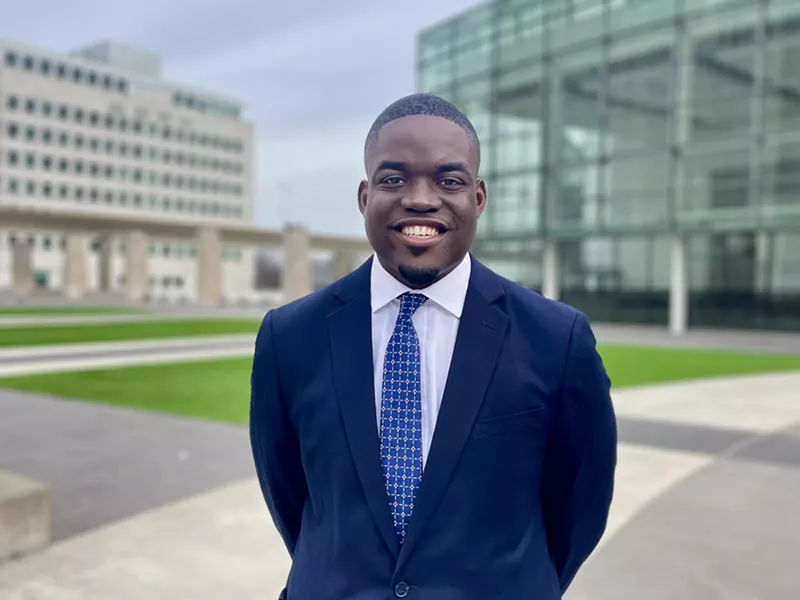 Justin Onwenu could go almost anywhere after he graduates from Columbia Law School next year.
But the 26-year-old has his eyes set on Detroit, where he was born and spent several years after undergraduate school fighting for environmental justice.
"There are so many young people who go to Washington, D.C. and New York and want to do really great work, and I would encourage people to do that work back home where there is community and a need, and where the work will have a great impact," Onwenu tells
Metro Times
. "I'm really excited to get to work."
Before law school, Onwenu was a community activist and organizer for the Sierra Club in Detroit. He helped build a coalition of activists to protect residents from toxic air in
Detroit's most polluted ZIP code —48217
.
When a dock collapsed and spilled contaminated soil into the Detroit River in southwest Detroit in November 2019, Onwenu became a key advocate in pushing for
a new city ordinance to protect drinking water sources
and hold unscrupulous polluters accountable.
The ordinance, which passed in September 2021, increased oversight and accountability for businesses along the river by requiring them to maintain their properties, conduct environmental assessments of their land, and store material at least 150 feet from the shore. It also established penalties and enforcement actions and requires emergency management protocols in the event of contamination.
When the COVID-19 pandemic swept through and had a disproportionate impact on the city's predominantly Black population, Onwenu connected vulnerable residents to resources.
From the time he was a child, Onwenu knew his goal was to help people.
"I wanted to be a doctor for most of my life," Onwenu says. "Medicine and public health always interested to me."
As an undergraduate, Onwenu attended Rice University in Houston and served as president of his class. He planned to head to medical school after graduation, but a cataclysmic event put him on a different path.
Hurricane Harvey struck Houston in August 2018, causing widespread damage and catastrophic flooding that disproportionately impacted lower-income residents. Onwenu had just graduated and teamed up with a professor working on outreach recovery efforts, where he witnessed the disparities in access to services, health care, and housing, and the devastating effect it had on people who were already struggling.
A year after the storm, homes were still infested with mold. He vividly remembers meeting a woman whose son had to sleep in the living room because his bedroom was covered in it and he had asthma.
"I spent so much time thinking about medicine, but you had refiners that flooded and made people sick, city services took a long time, and people lost their jobs," Onwenu recalls. "I became a lot more interested in why people are sick and not doing well. Whether it was environmental justice or economic justice issues, I wanted to get at the root of the issues before treatment was needed."
After about a year, Onwenu decided to move back to Detroit and advocate for people who were impacted by environmental contamination. He was alarmed by a story in
The New York Times
about schools in Detroit shutting off water because it was contaminated.
"I wanted to get back to Michigan," he says. "That had been the only place that felt like home to me. All of the environmental justice issues I worked on in Texas felt more pressing in Michigan."
He landed a job as an organizer for Sierra Club, and he immediately got to work in Detroit, where more than 650 residents are killed by air pollution a year, according to the University of Michigan School of Public Health. Thousands more are hospitalized, and children miss a disproportionate number of days at school because of illnesses and asthma.
After the dock collapse, Onwenu realized his next step was law school. It would give him more avenues to seek justice.
"I felt like I had the organizing piece," Onwenu says. "But I saw the power of being able to go into meetings and say these laws were broken or the law needs to change. I feel like I can combine the community organizing tools with the legal tools. A lot more can happen."
His decision to return to Detroit comes at a time when
an alarming number of Black residents are fleeing
the city. Since 2000, Detroit has lost about 295,000 Black residents, or 37.4% of its African American population. No other American city has lost more Black residents.
Last month, Onwenu was elected president of the Columbia Law School Student Senate. He previously served as treasurer.
While in law school, Onwenu worked on economic justice issues. He spent about a year as a law clerk for the United Auto Workers. He's now working as a law clerk for One Fair Wage, a nonprofit dedicated to improving wages and working conditions in the service sector.
During a stint as a server at Applebee's, Onwenu experienced wage inequality first-hand. He says he was paid less than the company pays white workers. He filed a wage discrimination lawsuit against the restaurant chain, and
servers rallied in support of him last month
.
"I really want to bring back my experience pushing for fairer wages back to Michigan when I return," he says.
During the pandemic, Onwenu became more interested in economic issues after seeing the toll it took on workers. People were laid off, and others received low wages.
"That pushed me into thinking about labor, workers' rights, and economic justice," he says.
He's not sure what's next for him in Detroit, but he knows he wants to make a difference.
"I'm still trying to figure out what I'm going to do when I get back," Onwenu says. "I know I want to do public interest work. I'm really looking forward to it."
Subscribe to Metro Times newsletters.

Follow us: Google News | NewsBreak | Reddit | Instagram | Facebook | Twitter