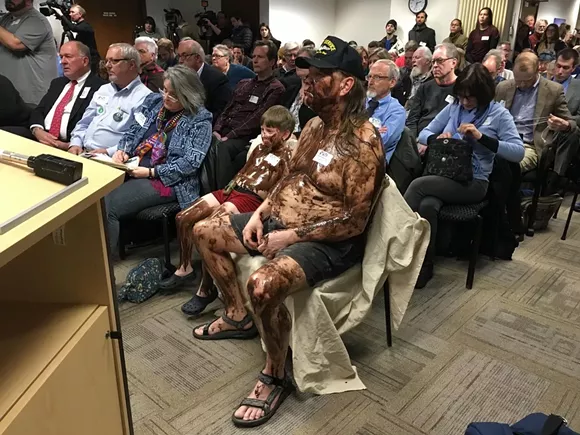 Canadian oil giant Enbridge Energy defended its Line 5 pipeline on Monday, telling Lansing officials the aging infrastructure located at the bottom the Straits of Mackinac was in good shape despite recent reports indicating coating failures.
An Enbridge document sent to the Environmental Protection Agency in September described "holidays," or "limited numbers of areas of the pipeline where there is a loss of coating around the pipe." But on Monday, Enbridge walked back on that description, saying it was "not an appropriate use of the word holiday," according to Enbridge Vice President of U.S. Operations Brad Shamla.
"It was a generic use of the word holiday where there was a pipe coating anomaly, if you will, so we're looking at correcting that terminology," he said.
Another Enbridge official said the pipeline was in "as good of condition as the day it was installed," but not everyone was buying it. The statement was met with a "chorus of boos" from concerned citizens, according to
The Detroit News.
"I know it was their intent to reassure people, but I don't think it was reassuring," said David Holtz, chairman of the Michigan Chapter of the Sierra Club. "Clearly if coatings are falling off the pipeline, it's not in as good of condition as the day it was installed, and that goes to the issue of integrity and credibility."
According to
The Detroit News
, peaceful protesters repeatedly yelled "shut it down" during the presentation. One man and his grandson dramatically covered their bodies in what appeared to be chocolate to dramatically imitate the effect of oil spills.
"We wanted show you what the birds will look like, what the fish will look like, what the shoreline will look like if that pipeline breaks," said the man, Fred Harrington, according to
MLive
. "If we continue to let it run and run and run year after year, it will break."
The company said it has no immediate plans to repair the wrap. In June, it will temporarily displace all oil with water and increase the pressure to test the pipes' integrity.
Construction on Line 5 was completed in 1953. At the time, engineers boasted it would safely last 50 years. (That was more than 60 years ago.) Given the way the water moves at the Straits of Mackinac, experts say a spill could equally pollute both Lakes Michigan and Huron.