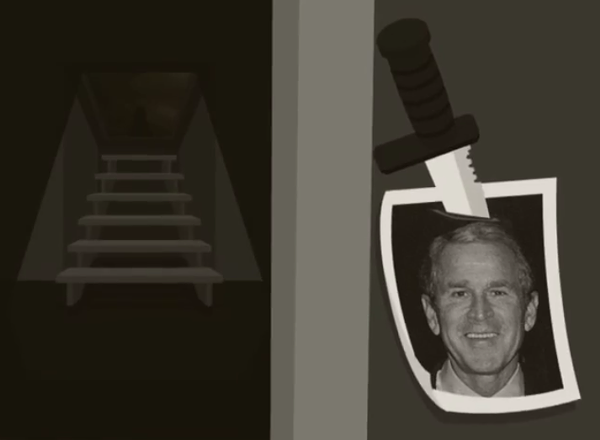 When Eminem
eviscerated Donald Trump
in a freestyle that aired during the BET Hip Hop Awards last night, those among us who are old enough to remember the early aughts couldn't help but compare the takedown to the rapper's last rip of a sitting president.
In October 2004, Eminem released a single off his album "Encore" in protest of George W. Bush, just as voters were getting set to head to the polls and, ultimately, elect Bush to a second term. The song criticized the then-president for launching the war in Iraq.
Early in the track, Eminem shouts a "Fuck Bush!" and eventually fleshes out the sentiment behind the statement: the then-president wrongly led Americans into a war that would go on to last the better part of a decade, and using the national climate in the wake of 9/11 to cast anyone who didn't agree as unpatriotic.
Eminem - Mosh Video from Steve Ogden on Vimeo.
"No more blood for oil," Em raps. "No more psychological warfare/To trick us to thinkin' that we ain't loyal."
The song is as much of a slam as it is a call to action: Eminem advocates for people to unify to "disarm this weapon of mass destruction that we call our President," while the accompanying animated video shows him leading a mob of people clad in black hoodies to the voting booth.
Here's what the
A.V. Club
had to say
back in 2004:
But on his new single "Mosh," he stops attacking scapegoats and straw men and finally goes after the people who actually wield power. Over Dr. Dre's apocalyptic production — all rain-clouds and thunderclaps — Eminem launches into a searing, overtly emotional attack on President Bush and his administration's bloodlust and misplaced priorities. Eminem has always been angry, but his anger has never before been this righteous, focused, or plugged in to what matters in American life.
Eminem's anti-Trump freestyle is, comparatively, more barbed, as there's more at stake this time around. For Eminem, Trump is "a kamikaze that'll probably cause a nuclear holocaust," worthy of being bashed against his proposed border wall with Mexico.
But absent from the latest political rap is any effort to bridge a divide for a common cause: if you support the president, Eminem is drawing a line in the sand, and if you stand with Trump, "Fuck you."