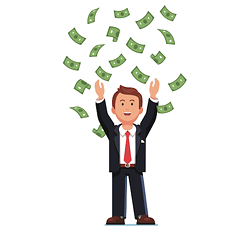 We all know that Santa likes to reward the nice, not the naughty. But one person's naughtiness can help build a fortune for somebody else.
That said, three law firms that must have been extra good this year: Flood Law, Warner Norcross & Judd, and Barris, Sott, Denn & Driker.
Here's the tale of how their season became just a bit merrier thanks to this dust-up between Schuette and Snyder's emergency managers in Flint.
In October, the
Free Press
reported that Schuette had bumped up the budget for his investigation from $249,000 to $1.5 million in March and finally to $4.9 million. He'd already spent almost half that amount in mid-October, with more funding to come from outside the budget.
Schuette's investigation is headed by Royal Oak attorney Todd Flood, of Flood Law, and the
Freep
reported that $2.2 million of the money was paid out in legal consulting fees.
As other media outlets have noted, Flood has been a Snyder donor in the past, which has some questioning his impartiality.
And even though Gov. Rick Snyder
told the Freep Wednesday
he has "no reason to be concerned" about facing an indictment from Bill Schuette, he has already spent $4.9 million of the state's money on his own criminal defense: $3.5 million to Warner Norcross & Judd of Grand Rapids.
In a funny coincidence, Bill Schuette worked there just seven years ago.
Snyder is also earmarking $1.4 million with Barris, Sott, Denn & Driker of Detroit.
So the Attorney General is spending about the same amount of public money on the Flint investigation that the governor is spending on his defense.
Does this strike anybody as odd? I mean, I had this crazy idea that when a prosecutor decides to investigate a crime, that it's mostly internal, without a lot of private contractors.
Similarly, call me crazy, but I had thought that civil servants not charged with a crime couldn't make the public pay for their criminal defense.
Instead, when you put the two legal budgets together, between Snyder and Schuette, enough is going to be spent to replace 2,000 lead service lines right there.
Is this a form of "disaster capitalism" in which Snyder's inner circle are using the Flint crisis as an opportunity to reward friends in the private sector?
Those who've watched closely will recall the shady appearance of the state's emergency purchase order of water pitchers from Home Depot, which FEMA was able to buy factory-direct for 38 percent less when it took over relief operations. In the early days of that crisis, top Snyder aide Richard Baird had notified Snyder in an October 2015 email of his "good friend" on the Home Depot board, J. Frank Brown. Brown landed the state's emergency contract, but later had one of his spokespeople decline comment on the matter, suggesting it was something he'd rather not discuss with nosy journalists.
Is all this money Michigan is hemorrhaging in legal fees more of the same?
It's uncomfortable to speculate about. But there is something comforting in all this. While the residents of Flint are still playing the home game of "Poison or Not!" plenty of households headed by partners at law firms in Detroit, Royal Oak, and Grand Rapids will be able to have an extra-wonderful Christmas with this expanded payroll.
Yes a revamped, reinvigorated Flint with all-new pipes bubbling with life-giving water would be huge for Michigan, and would fill all of our hearts with joy this holiday season.
But at least a few select families with have more money to celebrate with.
After all, this season, isn't it the little things that count the most?