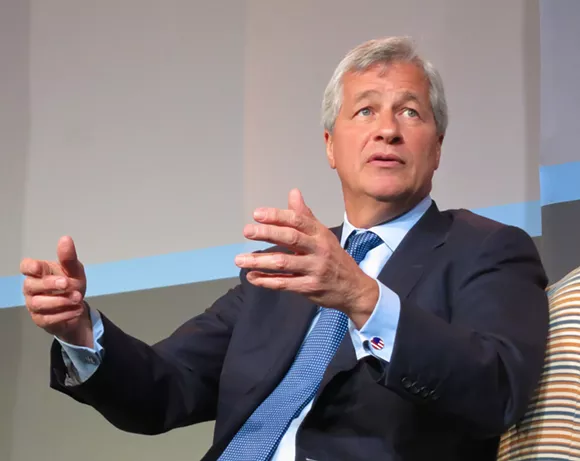 What does an embattled CEO of a multinational bank do when he needs his image refurbished? Why, sit down for a nice fireside chat with
Bloomberg Businessweek
, of course — using Detroit "the comeback city" as a backdrop.
On Thursday morning, the weekly business magazine posted a
sprawling, puffy Q&A
with Jamie Dimon, CEO of JPMorgan Chase Bank — the conglomerate that tops the list of largest banks in the U.S., with trillions of dollars in assets.
See, Dimon and JPMorgan have a bit of an image problem, following
the 2012 trading debacle
that resulted in more than $6 billion in losses (and drawing the ire of Michigan Senator Carl Levin, then the Chairman of the U.S. Senate's Permanent Subcommittee on Investigations, who said JPMorgan "piled on risk, hid losses, disregarded risk limits, manipulated risk models, dodged oversight, and misinformed the public.")
JPMorgan Chase has also
topped out in a study
done by the U.S. Treasury's Office of Financial Research (OFR), that sought to rank banks based on the systemic risk they posed to the global financial system. JPMorgan came in with the most dangerous score of 5.05 for U.S. mega-banks.
But you won't hear any of that in the
Bloomberg
Q&A, which was packaged along with a seven-minute video that amounts to little more than a feel-good advertisement for the bank's $100 million investment in Detroit.
In the Q&A Dimon credits Gov. Rick Snyder, Mayor Mike Duggan, and himself for the city's resurgence. (Of Duggan, he says: "And you know, this man — with a smile — set up all these things like we would have done in business: the war room for lights, the war room for sanitation, the war room for this and that, constantly tracking it all. And it's working.")
There's too many strange quotes to count: read the full piece
here
, or watch the video below: