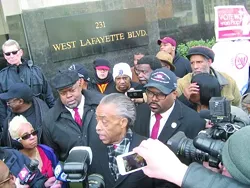 It didn't take long for Michigan's new emergency manager law to face a legal challenge.
Last Wednesday, one day before the law officially known as PA 436 first took effect, a lawsuit challenging the constitutionality of the act was filed at the Theodore J. Levin U.S. Courthouse in Detroit.
The fanfare came a day later when a procession of about 100 people led by the Rev. Al Sharpton marched down West Lafayette to the steps of the courthouse to draw attention to the suit.
Sharpton, head of the National Action Network civil rights group, pledged that thousands of protesters from around the country will soon come to Detroit to stage a mass march and to participate in nonviolent civil disobedience actions.
"This is a local issue, but it is a national struggle," said Sharpton. He predicted that thousands of protesters from around the country would soon be coming to Michigan.
"If you can get away with it in Detroit," Sharpton said about the controversial law, "then it can happen all across the United States."
Opponents of the law have said that this is a battle that needs to be fought in the streets as well as in the courts.
The federal compliant was filed on behalf of specific Detroit municipal union officials, school board members and clergy, as well as various elected officials from the cities of Pontiac, Flint and Benton Harbor — which are also under the rule of emergency managers. Gov. Rick Snyder and state Treasurer Andy Dillon are named as defendants.
"Through its provisions, Public Act 436 establishes a new form of local government, previously unknown within the United States or the State of Michigan, where the people within local municipalities may be governed by an unelected official who establishes local law by decree," according to the lawsuit.
Snyder's administration, to the surprise of no one, contends the law is rock solid.
"We're fully confident in both the spirit and constitutionality of the state's most recent emergency manager law, Public Act 436, and will work vigorously to uphold it," Sara Wurfel, the governor's spokesperson, said. "This law recognized and respected the will of voters while ensuring local officials have a strong voice in how a financial crisis in their community or school is remedied. Beyond that, local governments are subdivisions of the state, and the governor — an elected official — has a clear constitutional role and responsibility in addressing these financial emergencies and protecting the health, safety and welfare of residents and ensuring students get the education they need and deserve.
How strong a case do opponents of the law have?
There's not a clear-cut answer, in part because, as lawyers of the plaintiffs indicate, no other state has ever tried implementing something as extensive as Michigan's emergency manager law.
In an email exchange with the Hits, Wayne State University Law School Prof. John Mogk, who includes state law among his specialties, noted, "I agree that the EM law is more far-reaching than any other. There are issues raised that will require expansive interpretation of previous case law."
Mogk explained that, as Wurfel pointed out, cities are a creation of the state and, as such, the legislature may grant the governor wide latitude when it comes to addressing something like a financial emergency.
But, as we understand it, the question isn't simply whether the governor has the legitimate authority to take away some powers from duly elected officials. There's also the question of whether the law giving him that authority has been equally applied. However, even that aspect can be effectively countered, explained Mogk (who gently slapped us down a bit when we brought up the word "tyranny" in our exchange). Among other things, he said, even if it is established that the law hasn't been applied equally, that alone isn't necessarily enough to have the statute declared unconstitutional if a rational basis exists for the difference.
"Past precedent does not require much to establish a rational basis for disparate treatment among individuals or groups as required under equal protection," he explained.
Robert Sedler, a Wayne State prof who specializes in constitutional law, told us that it's possible PA 436 could be deemed to be too far-reaching by the federal courts.
Giving emergency managers the power to set aside ordinances legally approved by a duly elected city council, while at the same time empowering those EMs to enact what are essentially new ordinances, could be considered "a serious incursion on the rights of self governance."
In other words, even if a financial emergency is so severe that the governor has the right to appoint someone to deal with it, should those managers also have the right to strike down local ordinances and create new ones?
As pointed out in the lawsuit, PA 436 "does not provide any process that EMs must follow in the adoption or repeal of local laws, but rather permits the EM to do so by private orders, not subject to open meeting requirements."
Sedler, however, offered a word of caution to those who hope to see a judge declare the law unconstitutional.
"Federal courts are reluctant to strike down laws on their face," he explained. "They prefer constitutional challenges that address how laws are actually applied."
So, in that regard, it's a smart move on the part of Detroit EM Kevyn Orr to keep the City Council and mayor in place. On the other hand, the city of Detroit isn't the only issue here. Of equal importance is how the law is applied to other cities under the control of an emergency manager, as well as school districts such as Detroit Public Schools.
News Hits is written by Curt Guyette. Contact the column at 313-202-8004 or [email protected]