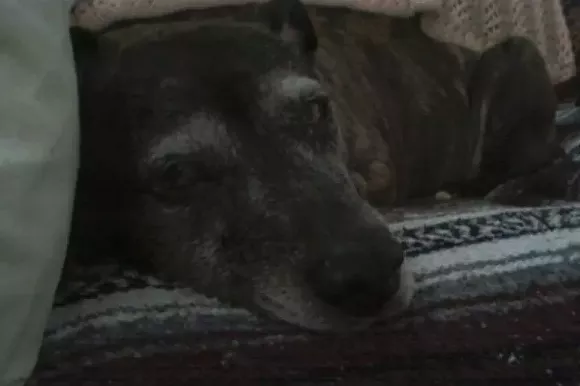 And in today's installment of 'WHAT THE HELL IS WRONG WITH PEOPLE?' we have a case out of Hamtown.
According to
reports
, resident Sarah Birkel came home at 7pm last Friday night to find evidence of a break-in and her dog doused in a strange substance. The dog, a 14-year-old pit bull named Abbey, was also limping.
Birkel then noticed an empty bottle of Drano, a large stain on her kitchen floor and a broken broom.
"They poured Drano into her eyes, all over her body, they continued to beat her with a broom," Birkel told Fox 2.
Birkel said the thieves made off with some heirloom jewelry and ransacked her house.
After calling the police, Birkel took Abbey to an emergency vet where she received a flushing of her eyes, a bath, and treatment for corneal ulcers caused by chemical burns.
WXYZ reports
that Birkel is now providing around the clock care for her beloved dog that includes medication for her eyes, possible internal damage, and pain.
Detroit Dog Rescue is offering a $1,000 reward
for information that leads to the person who assaulted the dog and a
GoFundMe campaign
has been set up to assist Birkel with medical costs.
The universe is offering a reward of unending joy for whoever can help find the sick fucks who would attack an elderly dog. Anyone with information is urged to call Hamtramck Police at 313-876-7800.