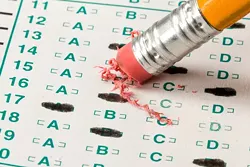 CORRECTION 2:20 p.m. Wed., May 21: The story has been updated to accurately reflect the spending of two credit cards. We regret the error.
The Education Achievement Authority, the independent state school district tasked with overseeing 15 of Detroit's lowest performing schools, has received a glut of criticism this year. And last week, the district's chancellor, John Covington, didn't make things any better.
As the Hits previously reported, an analysis of the district's year-over-year MEAP test scores revealed that more than 75 percent of the district's students showed no improvement, one-third of which actually showed declines. This came at a time when Lansing was considering an expansion of the number of schools the district could oversee from 15 to 50.
If that weren't bad enough, Covington got some bad press last week when The Detroit News found almost $240,000 in travel, gas, and IKEA furniture was charged to two credit cards in his name.
The investigation from News reporter Joel Kurth found that $178,000 had been spent on hotel and airfare from April 2012 to February of this year across 36 cities for teacher training seminars.
EAA spokesman Terry Abbott explained the costs last week to the News:
"The [EAA] was charged with taking over and turning around the academic performance of the lowest-performing schools in Michigan," Abbott wrote in an email. "... Rigorous and regular professional development was absolutely essential for teachers and administrators as they worked to help these children who are in greatest need improve their learning."
That so? While some EAA teachers reportedly had to buy their own supplies, teachers and staff went on trips to Las Vegas … to garner necessary training experience? Really.
The fact Covington has a "personal assistant" drive him around stung a few lawmakers and critics of the school district, as well.
"The Education Achievement Authority is not only failing to provide our children with a safe and proper education, it is also squandering taxpayer dollars on illegal expenditures," state Rep. Ellen Lipton (D-Huntington Woods) said in a statement. "I demand that Chancellor Covington return the funds he illegally spent on his chauffeured car service, and the House Republicans finally stand up for Michigan's kids and taxpayers by seeing that the money is reimbursed."
Lipton contends Michigan's State School Aid Act of 1979 says a school district should forfeit any amount used to fund the "purchasing, leasing, or renting of cars for board members' use … and for chauffeurs for board members of this administration."
"It saddens me more and more each time a new allegation is brought up against the district that is supposed to be reforming Michigan schools," Lipton said. "I hope the EAA does the right thing by returning these funds and the House Republicans step up to the plate and finally bring an end to this failing educational experiment they have been forcing on our students."
Chrystal Wilson, the EAA's public relations specialist, said in a statement to the Hits that Lipton is "mischaracterizing the work of the special assistant to the Chancellor who has many duties to help run the district. It is a common practice in Michigan that superintendents have district provided vehicles. The vehicle is used by other members of the administration."
Even if it is standard practice for superintendents to receive a gas allowance, should the chief of a district — one that's already operating on a tight budget — that's supposed to be turning around failing schools spend extra money on a "personal assistant"? Some clearly disagree, mischaracterization or not.
Covington, you might recall, is the man who abruptly left the Kansas City school district he oversaw for the EAA post after he was unable to bring about any improvement to save the flailing district. Under his tenure, that school district lost its accreditation.