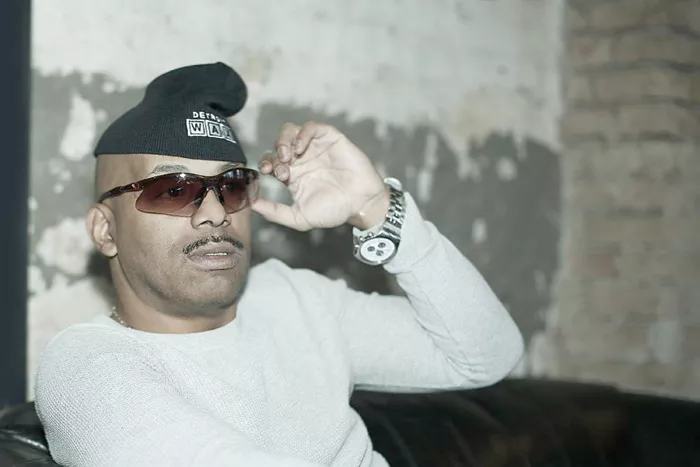 Eddie Fowlkes is in Berlin, having just come off a three-hour Boiler Room DJ session last week. Over Skype, he sounds excited and a little exasperated, with upcoming studio sessions on his mind as well as his return to playing Movement after two years of twisting the piss-stained dance floors of Europe and beyond with his ever-evolving sonic take on Motor City techno soul.
"The quality of music in Berlin is far superior [in comparison to the United States']," he says. "You can play anything here, the darker sounds of Berlin mixed with classic house."
Despite being a lesser-known veteran in his own hometown, he's even more ubiquitous abroad. We all know of Kevin Saunderson and Juan Atkins' contributions to Detroit techno, a musical genre so cross-fucked and mixed together that at times it can be a bit difficult to pin down. But truthfully, without Eddie "Flashin" Fowlkes' first record "Goodbye Kiss," a hard hitting techno beat blended soulfully with the smoothness of Chicago house bass featuring an irresistible vocal sample, we might have never heard the future classics his arguably more famous cohorts went on to release.
"That [record] came from an epiphany," he recalls romantically. "I was dancing with this girl, and my eyes went back in my head. When I came to, God had told me to make this sound." It was this moment of spiritual awakening that allowed Fowlkes to move forward with his musical career and grace the rest of us with heavenly sounds composed of 909 beats from beyond (a sweat-soaked dance floor at 3 a.m. with the right DJ can feel like its own form of prayer).
From then on, Detroit had made its presence known in electronic music globally, and Fowlkes was at the forefront. New York had Larry Levan editing a fusion of disco and boogie while Frankie Knuckles was in Chicago mixing Italo disco and house into its own genre. Meanwhile Detroit was the perfect centerpiece, a blend of funk and soul music punctuated with skittering beats and futuristic vocal samples.
Fowlkes first visited Chicago in 1981 to see Frankie Knuckles at the Warehouse, "where the only place you could hear this music was in a gay club." He remembers in Detroit, "Luomo on Six Mile would have almost 700 people packed in to hear this music."
In the '80s, music was at a crossroads; pop was being redefined by incorporating dance music for a mainstream-friendly audience by eager young Americans looking for Motown soul in Bowie-less artists. Enter Fowlkes and company, a group of technologically forward-thinking youngsters looking to combine and progress a musical movement so momentous and advanced that it reached the shores of the United Kingdom before it even really met us.
"Only the black kids were buying our records [in America]; no one was buying our records in the suburbs so our distributors reached out," Fowlkes says.
Back then, the hyperactive record-collecting mentality helped those across the pond first embrace the sounds of the urban Midwest because of the importance of musical knowledge that acted as a form of social currency over there. If you can remember the ultra pricey section in Tower Records that contained special singles and B-sides from Europe and Japan, then you were one of the lucky few who got to hear those rarities before anyone else in the United States. In order to make money, Fowlkes says, "distribution had to move to Europe."
Same song, second verse. Modern R&B and hip-hop were taking over the airwaves in the early '90s as grunge had already crossed over in the U.K. Beneath that, a cocktail of American techno was the shout heard 'round the record player in creating the so-called "Second Summer of Love" in the United Kingdom — acid house. Just watch Trainspotting — that scene where the girl says, "Drugs are changing, even music's changing." If you're the biblical type — house begat techno; techno begat jungle; jungle begat drum; and bass, drum, and bass begat dubstep.
Either way, Fowlkes is pretty close to the star on top of the tree. With secret raves popping up across the Midwest that required special instructions and clandestine locations in middle-of-nowhere bum-fuck forests, it's no wonder that techno wasn't as big a deal here as it was over there, where clubs commonly played that music. In fact, some kids in suburban America's first taste of techno came from relocated European expats who brought tapes of recorded, now-legendary Hacienda DJ sets to trade or simply share with others. These were reel-to-reel original beat-matching DJs who basically had to memorize an entire record in order to seamlessly mix into the next. (Very few know how impossibly difficult that feat actually was.) So it makes sense these days that Fowlkes only plays a handful of shows back here in just as few years.
But Fowlkes believes the reason Detroit is so complementary to electronic music's echelon is because of the technologically innovative people here. "We have style with our cars and clothes," he says. "It's fresh, people are driving around in their new car with their iPod playing the newest music!"
The ability to create this music that resonates with people worldwide originates in Detroit's forward-thinking youth, now and then. It's this bootstrap attitude that Fowlkes utilized and the new generation idolizes, here and there. His pioneering record label, Detroit Wax, founded in 2004, carries the torch beyond our shores featuring a lineup of local and foreign artists.
And when he returns for his triumphant showcase at Movement next week, we can expect his classic mix of "funky soul and old deep house with layered vocals," a testament to a sound so complex and contemporary we only get it a few times a year. So take advantage of the opportunity to hear an original legend get it right, but be prepared for that "Goodbye Kiss" — it'll make the soul sound so much sweeter.
Eddie Fowlkes plays at 8 p.m. on Monday, May 26, at the Movement Electronic Music Festival's Made in Detroit Stage; movement.us.