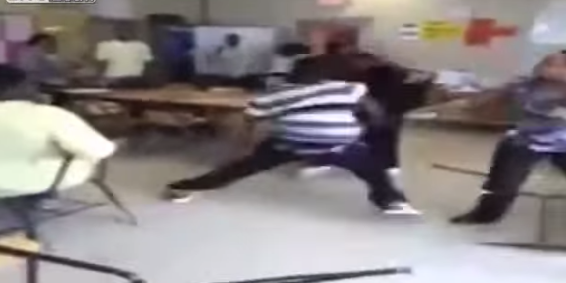 A teacher in the Education Achievement Authority (EAA) who made headlines last year after
she was fired for using a broom to break up a fight at a high school in Detroit
has filed a lawsuit against the school district.
According to the federal complaint filed Friday by Tiffani Eaton-Davis, the EAA failed to warn her of "violent conditions" at Pershing High School before she accepted a job as an English teacher.
Eaton-Davis was fired by the district after she attempted to stop a fight between two male students, who were suspended following the incident. At one point, Eaton-Davis grabbed a broomstick and swatted one of the teenagers several times before the altercation ended. The incident was captured on video and drew national attention.
And though the EAA —
which was formed in 2012 by Republican Gov. Rick Snyder as a state-run district
that oversees 15 of Detroit's lowest-performing schools — later announced 31-year-old Eaton-Davis was reinstated, the teacher never reaccepted the position, according to the complaint.
A message was left for Eaton-Davis' attorney seeking comment. Mario Morrow, spokesperson for the EAA, said he was unaware of the lawsuit at press time, however, "if there is a lawsuit, I still would not comment because we don't comment on legal matters."
Eaton-Davis was hired Jan. 27, 2014. Prior to accepting the position, the complaint says, she was not warned of the "unusually high amount of fighting and violence that occurs at Pershing High School." Eaton-Davis never received an employee handbook and was "untrained to handle violent disputes amongst gang members," according to the complaint.
Two months later, on April 30, a fight broke out in her class between two students — including one who, according to the complaint, shouldn't have been at school because he was "suspended due to another allegation."
The EAA failed to hold a hearing on the student's allegation, the complaint asserts, and put him back in Eaton-Davis' class "without warning."
When the fight broke out, the two students repeatedly punched one another, while overturning several desks. The complaint says no "sizable male students" intervened to break up the spat.
Eaton-Davis — who's referred occasionally in the complaint as "Ms. Davis" — called for security over a walkie-talkie but received no reply; the complaint alleges Pershing teachers notified EAA officials on several occasions about the lack of security.
Then, Eaton-Davis decided she needed to intervene.
"Being a petite woman, incapable of physically intervening, she placed her personal items on the desk, walked to the front corner of the room, grabbed an aluminum broomstick and began hitting the back of [one student], while screaming, 'Get off of him, Get off of him,'" the complaint says.
The maneuver broke up the fight momentarily, but soon after it continued until security finally arrived. The students were escorted out of the room, and Eaton-Davis continued to teach.
The following day, students told Eaton-Davis the video was posted on YouTube. Pershing's principal came into Eaton-Davis' classroom and told her to immediately visit EAA headquarters to speak with Human Resources about the incident. Upon arrival, the teacher was asked by the principal and Carla West, executive director of EAA's human resources department, to recount her version of events on a yellow pad of what happened during the fight, the complaint says.
Officials then offered Eaton-Davis the opportunity to resign or quit. West left momentarily and returned with her supervisor who, according to the complaint, told Eaton-Davis it would be a wise career-move to resign because she'd maintain a "clean slate."
"Ms. West's supervisor continued to pressure Ms. Davis into resigning by telling her that she could not receive unemployment because she had not worked with the EAA for six months, but, from personal experience, Ms. Davis knew this was a lie," the complaint says.
After she was presented with resignation papers, Eaton-Davis refused to sign and "made it clear they would have to terminate her," the complaint says, "which they did."
An online petition calling for Eaton-Davis to be reinstated garnered over 2,000 signatures before the EAA announced she could return.
But Eaton-Davis didn't accept the job because "she is afraid of returning to the classroom and suffers from psychological distress from the incident," the complaint says.
The lawsuit — which names EAA Chancellor Veronica Conforme, West, and five "Jane" and "John Does" as defendants — filed in U.S. District Court in Detroit claims intentional infliction of emotional distress; violation of the Fourth and Fourteenth Amendments; civil rights violations; and disparate treatment. Eaton-Davis seeks unspecified compensatory damages and attorney fees.
Update (Tuesday, June 9, 2015, 9:45 a.m.): This story has been updated to clarify what school's the EAA oversees in Detroit.