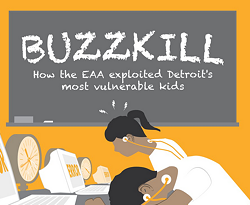 Nearly two months ago (time flies, nuts) we
reported
that the FBI was looking into one Kenyetta "K.C." Wilbourn, a former principal at Detroit's Mumford High School.
Today we've found out that the former head of an Education Achievement Academy school has been indicted by a grand jury on charges of conspiracy and bribery.
In addition to Wilbourn, the grand jury has indicted Glynis Thornton, who ran an after school tutoring company — Making a Difference Everyday ("M.A.D.E.") — and Paulette Horton, an independent contractor who worked for M.A.D.E.
The five-count indictment charges that between August 2012 through November 2014, Wilbourn, who ran Denby High School before Mumford, conspired to commit bribery and money laundering. The charges say that Wilbourn contracted M.A.D.E to provide after school tutoring services for both Denby and Mumford and then received payments ("kickbacks") in return. Horton, the independent contractor, is involved because Thornton would discreetly pay Wilbourn by making deposits to Horton's company. Horton would then withdraw cash and give it directly to Wilbourn.
The whole debacle is, well, disappointing to say the least. Though not exactly a first. As we pointed out in October, the tale of public funds designated for the education of students lining the pockets of vendors and administrators is sort redundant at this point. In fact, the news of the original investigation into Wilbourn came out literally days (!!) after former Chicago Public Schools CEO Barbara Byrd-Bennett pleaded guilty to charges of fraud. In that case Byrd-Bennett initiated a $20.5 million no-bid contract between CPS and her former employer SUPES Academy with the understanding that she would get a kickback in return. Of course, Byrd-Bennett is not just an example of this sort of insidious behavior happening in another city — she has a close connection to Detroit as the former Chief Academic and Accountability Officer of DPS when the school was under the imposed emergency management of Robert Bobb.
The EAA — which is a state run "turnaround" district created by Gov. Rick Snyder — is trying to play the Wilbourn affair off as a singular incident. A "bad apple," if you will. The whole problem with this stance is it ignores questions of accountability. How was Wilbourn able to sign off on these questionable deals without anyone taking notice? While the EAA may be arguing the Wilbourn's transgressions took place in a vacuum and say little about the district at large, it's important to consider the context. This is not about individuals, this is about an undemocratic, unaccountable system that has allowed these people to prosper. (See MT's extensive coverage of EAA failure
here
and
here
.)