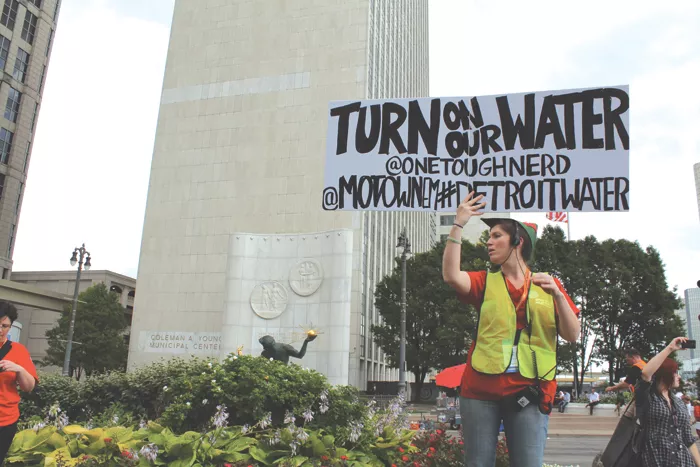 In light of worldwide attention on its efforts to cut water service for thousands of Detroit residents, the Detroit Water & Sewerage Department announced it would host a Water Affordability Fair on Aug. 2 to explain options available to those facing financial hardship.
About time. The move follows a call for action from the bankruptcy judge overseeing Detroit's Chapter 9 case and growing pressure from vocal opponents to an initiative critics say is a human-rights violation.
DWSD officials said in a news release that the fair will be take place from 8:30 a.m. to 5 p.m. at the department's Eastside Customer Service Center at 13303 E. McNichols.
"Every customer that has come to DWSD with a legitimate financial hardship has not had their water service terminated," said Darryl Latimer, DWSD deputy director, in a statement. "In cases where the water has been shut off, it's been restored. We keep hearing at DWSD that there are poor people who are not receiving the assistance that they need, so we want to help them and we want to make it as easy as possible for them to receive that help. That's why we created the Water Affordability Fair — ease of access and ease of assistance. We are here to help."
DWSD reps will be on-site to talk about setting up payment plans and other options available to residents. A number of other assistance programs are available, including the Detroit Residential Water Assistance Program, Water Access Volunteer Effort (WAVE), and Wayne Metropolitan Community Action. Those programs provide as much as $2,000 in financial aid.
The department's decision to stop shutoffs for two weeks was seen as a victory by critics of the initiative. A statement from the Detroit Water Brigade coalition commended DWSD's decision to halt "the disastrous and punitive program that has left thousands of low-income families without reliable access to water."
The water department's aggressive campaign to cut service to tens of thousands of delinquent residential accounts commenced in March. Over a four month period — March to June — an estimated 17,000 accounts have faced shutoffs, of which only half had service restored, as reported in the Michigan Citizen last week by former Metro Times News Editor Curt Guyette.
That raises an interesting question, one Guyette emphasized in his report: Why does DWSD continue to tout that 60 percent of its customers who face shutoffs have service restored within 48 hours? Based on Guyette's reporting, those figures don't mesh — at all.
Even so, DWSD spokesperson Bill Johnson reiterated the 60 percent figure to the Detroit Free Press in a story last weekend, which tried to explain that water shutoffs occur in other cities to resolve delinquency. (Nevermind that DWSD bungled the shutoff program from the onset, as Metro Times previously reported. Perhaps the outcome, and outcry, may have differed if the department had communicated better with its customers.)
Anyway, we tried clarifying those shutoff number discrepancies with DWSD, but at press time heard nothing back. Perhaps we'll have a more fluid picture this time next week.