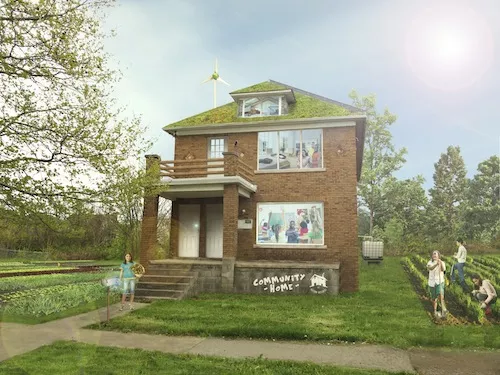 Late last year
, we wrote about three Dutch architecture students who spent a holiday in Detroit in 2015. It had a definite impact on them.
They were impressed.
They were inspired by the way the city's residents contended with faulty infrastructure, unresponsive government, disinvested neighborhoods, emergency management, water shutoffs, and tax foreclosures. In fact, it roused them to action: They're taking a year off from education to put some of their ideas into practice — and doing some good for Detroiters in the process.
The students, Bob Hendrikx, Dominik Lukkes, and Ronen Dan, hoped to make themselves useful by offering skills from their own disciplines, as designers grappling with the issues of climate change and sustainable building technologies.
Detroit's large, drafty, old houses, almost always heated with gas furnaces, were built for increasingly well-to-do workers during a time of cheap energy. As the city's residents have become poorer and as energy becomes more expensive, heating costs eat up the meager monthly budgets of an increasing number of Detroiters.
That's where our Dutch trio comes in: They're schooled in the recent innovations that help reduce energy consumption and lower household utility bills. But they also are all too aware that these advances are often so expensive that only the well-to-do can afford them.
Joining forces with local gro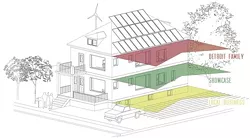 ups and the Delft University of Technology, they purchased a home on Detroit's west side, at 1995 Ford St., and have been working with neighbors to develop a hybrid space called "the Motown Movement," to include vegetable gardens, solar power arrays, a turf roof, a wind turbine, a rainwater collection system, cellulose insulation, green windows, a community center, and a living space given to a Detroit family that has lost its home due to tax foreclosures. (Thanks to working with the community, the project should turn out to have more long-lasting results than, say,
the house built by Cranbrook students at 2126 Pierce St.
)
Another product of the endeavor will be a website, which they will use to share low-budget and do-it-yourself methods with educators, researchers, suppliers and neighbors. They hope it helps Detroiters learn more about how to reduce utility costs and aid in the global fight against climate change, while making sustainable housing more accessible for everyone.
So why bring all this up again? It's because they've reached the fundraising part of their mission.
If they're able to raise $50,000
, they'll qualify for matching funds, which will give them the $100,000 they need for the project to happen. As of this writing, they're halfway there. But they need your help.

Want to learn more or help the Motown Movement? Get in touch by calling 313-204-5572 or emailing [email protected] See the website at themotownmovement.com.