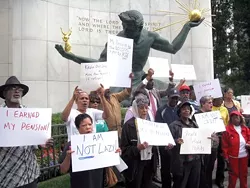 Once the mangy dogs here at News Hits begin chewing on a bone, it can be hard to let it go. Which is why, after last week'sMT cover package about the fishbowl effect Detroit is experiencing as the result of its historic bankruptcy filing, we're still gnawing on how outside media are portraying the city and its situation.
Which brings us to the Wall Street Journal and an article last week about Detroit, and the monumental task facing Emergency ManagerKevyn Orr.
After touting the resurgence of downtown and Midtown, and then giving a nod of approval to the "emergent hipster colony of Corktown," the influential Journal — which is now owned by Rupert Murdoch's News Corp — turned its right eye toward the rest of the city:
"Travel a couple of miles farther out [from Corktown], and the scenery begins to resemble the wild, wild West. There are no shopping centers or chain supermarkets. Sixty-six thousand vacant lots and 78,000 abandoned or blighted buildings, including the old Packard factory, occupy 130 square miles of no man's land. Yards are overtaken by knee-high weeds. A house with unbroken windows and shutters is a rarity."
Detroit, a city that contains "130 square miles of no man's land." Really? We bet that the residents of East English Village, Indian Village, Palmer Woods, Green Acres and other stable, vibrant neighborhoods are thrilled to see that sort of gross mischaracterization appear in a publication with international reach.
Talk about parachute journalism missing the target. Or is it telescope journalism, failing to accurately capture the big picture?
Either way, the interview did accomplish one thing: It helped draw out the true currency-green colors of EM Orr, a highly successful bankruptcy attorney who must have felt quite at ease sharing his thoughts with the bastion of capitalism that is the WSJ.
"For a long time the city was dumb, lazy, happy and rich," Orr told editorial writer Allysia Finley.
Those words elicited a speedy response. Among the first to pick up on the issue was Ed Schultz, liberal host of MSNBC's The Ed Show.
After reading the comment on air, Shultz asked Detroit progressive activist Lee Gaddies why Orr would make such a statement at this point.
"Because they want to avoid the facts, Ed," replied Gaddies. "Detroit has some of the hardest working, committed people in this country. Detroit labor built this country. You know, the auto industry created the middle class along with unions.
"You know, they would love to play into their own narrative of bigotry and racism, even though Kevyn Orr is an agent of the governor and he is a man of color, he still is an agent of that bigotry and racism and he wants to play on that by making you think because Detroit is a majority city of color, that we`re all lazy and stupid and we don`t deserve anything that we have. And he`s wrong."
The comment by Orr also prompted Micheline Maynard to post a blog about the issue at Forbes.com. A lecturer at the University of Michigan's Ross School of Business and a former Detroit bureau chief for the New York Times, Maynard's take on the controversy appeared under the headline "The Comments Detroit's Emergency Manager Will Wish To Take Back."
"Detroiters have long prided themselves on their work ethic, particularly the generations of African-Americans and immigrants who traveled from points around the country and the world to take jobs at auto plants, and with the city, and to build lives for their families," Maynard wrote. "While it's true that many people valued a good job more than a high school or college degree, Detroiters can barely be accused of sitting on their hands.
"One has to infer from Orr's comments that he may be speaking of Detroit's unions, who opposed the bankruptcy filing and are challenging the city in court. Indeed, a central point of the bankruptcy case will be whether Orr and city officials actually held meaningful negotiations before filing for Chapter 9. Union leaders emphatically insist he did not."
Orr spokesman Bill Nowling, attempting to stem the controversy, issued a statement essentially saying that Maynard's inference missed the mark.
"I believe Kevyn Orr was speaking about the attitude of the body politic of the city of Detroit, not Detroiters themselves," asserted Nowling. "And, I am pretty sure that history, both recent and ancient, bears out such a comment."
That explanation might be remotely plausible were it not for the sentence that, according to the WSJ report, immediately followed the "dumb, lazy, happy and rich" comment:
"Detroit has been the center of more change in the 20th century than I dare say virtually any other city, but that wealth allowed us to have a covenant [that held] if you had an eighth grade education, you'll get 30 years of a good job and a pension and great health care, but you don't have to worry about what's going to come."
What part of that sounds in any way like a reference to Detroit's body politic?
He did, though, eventually get to what sounded like a reference to the role the city's leadership played in Detroit's current condition, saying that as the financial predicament grew worse, "there needed to be some very nimble and agile thinking and leadership that was listened to. There was nimble and agile thinking and leadership that was spoken — but nobody listened."
Here at the Hits, we read Orr's "dumb and lazy" statement and thought the emergency manager was clearly talking about the auto industry, and the fact that high-paying, low-skilled jobs have largely disappeared, completely changing the economic landscape.
But that's not exactly the way a group of retired city workers who gathered to protest outside the Coleman A. Young Municipal Building on Monday interpreted the comment. The retirees we talked with — people who fear what will happen if Orr succeeds in decimating their pensions and health benefits in bankruptcy court— felt like the EM was denigrating Detroit's working class in general, and city workers in particular.
"I resent the 'lazy' comment," said Cheryl Johnson, who worked for the city's Department of Water & Sewerage. She told us how she was able to use her city job as a way to get off welfare and pay for college classes as she sought to better her life.
"I was so angry at those comments," said Faye Davis, who put in more than 30 years working for the city before retiring. I thought the comment was an insult to auto workers, fast food workers, workers for the city of Detroit — saying that we aren't intelligent."
While Johnson, Davis and others stood outside holding placards that said things like "I'm not lazy" and "I earned my pension," a group attempted without success to meet with Orr and extract an apology from him. They also, according to AFSCME Local 25 representative Ed McNeil, tried in vain to meet with Mayor Dave Bing to find out why he hadn't stepped up to challenge Orr's comments.
As for the pretzel-like verbal contortions displayed by Nowling as he attempted to justify his boss' characterization of Detroit, retiree Davis observed that Orr is catching "a lot of heat for what he said, and now they are trying to clean it up, which is what they always do."
Perhaps predictably, Nowling also tried to play one version of the race card in an attempt to provide Orr some much-needed cover.
"For someone who grew up in the segregated South, as Kevyn did," wrote Nowling, "Detroit was held up for generations to African-Americans and others looking for a way out of poverty and injustice."
So there you have it: The dumb, lazy, happy and rich people of Detroit are only looking for a way out of poverty and injustice because they are African-Americans and others, and their champion is a bankruptcy lawyer who moved here from Washington, D.C. because he is really one of them.
We hope that clears everything up.
News Hits is written by Curt Guyette. Contact the column at 313-202-8004 or [email protected]