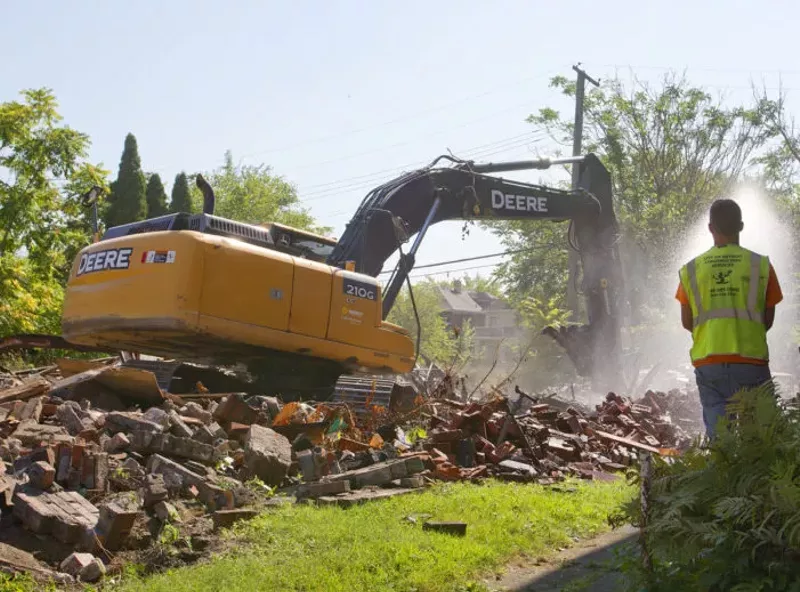 Mayor Duggan's administration fired back at claims that the demolition program was lax in ensuring clean dirt was used to fill holes from demo sites.
The city's response Wednesday comes one day after Detroit Councilwoman Mary Sheffield
called for a congressional hearing
to determine whether the city neglected to ensure demo companies were not using contaminated dirt.
The Free Press reported Monday
that the federal criminal investigation into Duggan's demolition program has widened over the possible use of contaminated dirt, which could cause health problems.
"Any time the DBA has become aware of contractors utilizing unverified dirt, it has required the contractor to remove, properly dispose of and replace it with approved dirt at the contractor's expense," says Tyrone Clifton, director of the Detroit Building Authority, which is overseeing the demo program.
"The DBA also put in an added layer of protection by implementing an early warning system to alert its compliance team any time an authorized source of dirt has been exhausted."
The city's diligent oversight alerted authorities that "one of our contractors, DMC Consultants, had begun filling holes with dirt that had not been authorized," Clifton says.
"As a result, DMC
was issued
an order prohibiting them from knocking down any more homes until they resolve this issue, and made sure all of their demolition holes are filled with authorized dirt," Clifton adds.
Clifton encouraged city council members to "see first-hand the extensive process we have in place to ensure the safety of our blight removal efforts and the use of verified clean fill dirt."
Duggan's demolition program has come under fire since a contractor blew the whistle on what he claimed was a corrupt bidding process that gave contracts to preferred demo companies. A federal investigation led to
a grand jury probe that has widened
after authorities spotted questionable practices, such as fabricating records and favorable treatment.
Stay on top of Detroit news and views. Sign up for our weekly issue newsletter delivered each Wednesday.