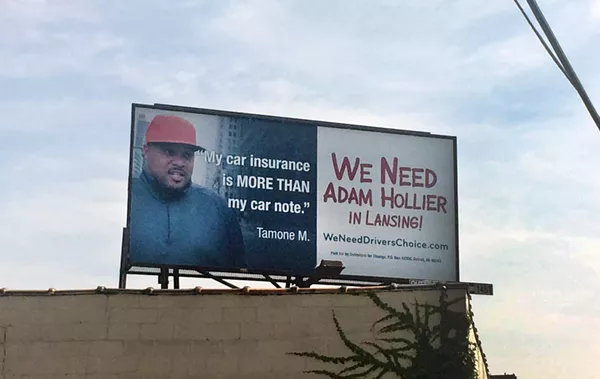 During her final days in office in December, GOP Michigan Secretary of State Ruth Johnson cleared state House and state Senate candidates
backed
by Detroit Mayor Mike Duggan and the auto insurance lobby of alleged
felony campaign finance violation
.
The three candidates — Adam Hollier, Marshall Bullock, and Terra DeFoe — all supported Duggan's "driver's choice" auto insurance plan that many felt largely benefited auto insurance companies.
State law prohibits nonprofits from "expressly" advocating or campaigning for candidates. A complaint filed with the Secretary of State's Bureau of Elections alleged the candidates violated the Michigan Campaign Finance Act with billboards stating "We Need Marshall Bullock in Lansing," "We Need Adam Hollier in Lansing," and "We Need Terra DeFoe in Lansing."
The Secretary of State can force nonprofits that violate the law to reveal their funding source and expenditures and turn over an investigation to the Michigan State Police.
However, Johnson's office determined the use of "we need" was not express advocacy in a decision that is viewed as a victory for dark money nonprofits and further weakens Michigan's already loose campaign finance laws.
Craig Mauger, director of the Michigan Campaign Finance Network, says he was surprised by the ruling. According to Mauger, nonprofits will likely use the decision to advocate for candidates in the 2020 elections, leaving voters with even less of an idea about who is funding campaigns.
"If the current Secretary of State interprets similar ads the same way, then you'll see a lot more ads that use this kind of language," he says.
Though new Democratic Secretary of State Jocelyn Benson campaigned on a promise to clamp down on dark money, a spokesperson says her office won't stop dark money nonprofits from using "we need" in the future. Benson "recognizes the boundaries and precedent of current legal requirements and interpretations that may have bound her predecessor," said spokesperson Shawn Starkey.
However, that could have something to do with Benson and Starkey's links to Mayor Duggan. Both are married to Duggan administration officials, so there's some question about their impartiality. Starkey failed to respond to a question about the relationships' influence on Benson's position when it comes to enforcing laws around dark money.
'We need'
State law lists examples of "express terms," which include "vote for," "elect," "support," "cast your ballot for," "Smith for governor," "vote against," "defeat," or "reject."
Though "we need" doesn't appear in the list, the Michigan Campaign Finance Act notes that it's "not an exhaustive list" — other terms can be used to expressly advocate.
In its opinion, the Bureau of Elections wrote that the "billboards do not contain one of the 'magic words' or any equivalent phrases."
"While not an exhaustive list, the specific words or similar phrases contained in must be present to conclude the communication contains express advocacy. The three billboards do not meet this threshold," the agency added in its report.
The Bureau of Elections further claimed that the billboards don't reach the threshold of express advocacy because they don't contain explicit context. Though it's obvious that the billboards are up shortly before an election and are advocating to send a candidate to Lansing, the state government's seat, there's nothing that states the election date, who the candidates are, or which office they are seeking.
Mauger considers that "a very unusual" interpretation.
"Most people who have common sense see a billboard with a name of someone who holds no office and it says 'We need this person in Lansing,' they're going to know it means that it's saying 'We need to vote this person for the state Legislature or Governor's office."
He added that nonprofits are supposed to be educating people about issues, "not advocating for someone."
"So when they start saying something like 'We need a person in Lansing,' they're taking a step away from educating and they're advocating for putting a person in
office
," Mauger says.
DeFoe lost in her primary, while Bullock and Hollier
won in their primaries
and in the general election.
Meanwhile, Duggan's GOP allies attempted to ram through his auto insurance plan in
lame
duck, but
it failed
for a lack of support.
Stay on top of Detroit news and views. Sign up for our weekly issue newsletter delivered each Wednesday.