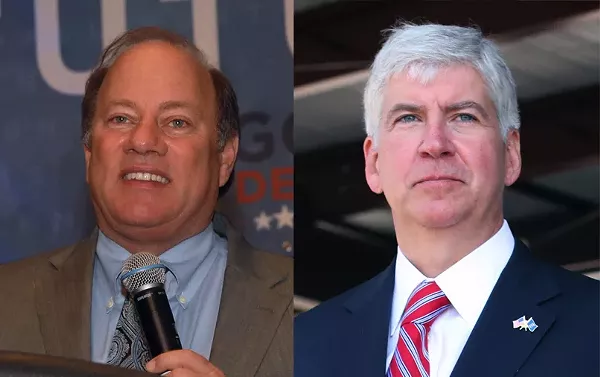 Michigan's top political leaders seem to be taking the Amazon loss in stride. It was a learning lesson, and they'll head back to the drawing board to figure out how to attract more investment to the state, they say.
We wonder just what lessons they learned. Amazon didn't pick Detroit likely because the city and region didn't meet all of its criteria, which included solid public transit and public schools. Perhaps city and state political leaders now see the urgency of improving those systems more than ever before. Or perhaps they see themselves as not having thrown enough money at Amazon to lure it here.
At any rate, here they are, expressing their pride-yet-disappointment in somewhat vague terms:

Detroit Mayor Mike Duggan:

"We would have loved to have made it into the next round for Amazon's second headquarters but everyone here is incredibly proud of the proposal we submitted. It showed a clear vision for the future of our city and brought out the very best of our city and our region.
"I want to thank Dan Gilbert, the Governor, County Executives, Windsor Mayor Drew Dilkens and the entire bid team for an extraordinary effort in a short period of time. We learned a great deal from this process and it was a very valuable experience. We're going to keep building on the progress we've made and keep pursuing major developments. I expect that the lessons we learned in the Amazon process will help make us more successful on a number of other major potential investments that we are currently pursuing.
"We're going right back to work today to work on those other projects."

Gov. Rick Snyder:
"It's disappointing we will not be welcoming a new Amazon headquarters to Detroit, but appreciate their continued investment and expansion in Michigan, including right in the heart of our Comeback City.
"Detroit's proposal to Amazon was incredible and garnered positive attention for the city from all across the world. As a state we will continue to pursue these types of valuable opportunities for our talented workforce.
"We are a top 10 state and we will continue driving to be the best in the nation. There is no limit to what Michiganders can do, and this proposal demonstrated exactly how we can marshal our resources and collaborate. Throughout the process of putting together this bid, we learned our greatest strengths and identified areas where we can improve. Now we are even more ready for the next big prospect.
"Michigan's spirit is unstoppable, and so is our comeback. This won't set us back — we're accelerating to the next opportunity. We know it's out there."